14.11.2018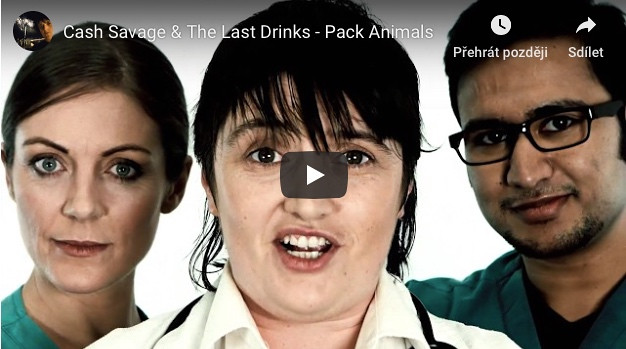 'Pack Animals' is the second single from Cash Savage and The Last Drinks' "Good Citizens" album which was released on September 21 on Mistletone Records via Inertia.
"Here comes the man in the room
Looks like he wants my attention…"
The lyrics paint a dismal picture of an all-too-familiar scenario for female musicians being mansplained after the show. "Pack Animals is dedicated to all the men that have offered me unsolicited advice over the years", Cash Savage says with a wry grin. Over the past 6 years, the phenomenon of men approaching the women of the Last Drinks with advice prefaced by "The gig was great, but…" has become a running joke that's not funny anymore for Cash Savage and her bandmates. "I've been told the dumbest shit", Cash recalls. Examples: "You play guitar too rhythmically, let the drums do the work" or "You should put more waltzes in your set". Dumb, yes — but not harmless. "The givers of the opinions will eventually become offended and sometimes aggressive", Cash warns, "if you don't hear them out." "'Pack Animals" calls out this behaviour as a manifestation of toxic masculinity and how it affects everyone, regardless of gender.
"We have all had moments in our lives where we've had to placate a man who is on the verge of becoming aggressive," Cash notes. "It's not fun for anyone. I look forward to a time when shit behaviour is called out before it gets to that point."
The song's refrain "Everything's fine, everything's gonna be great" carries a heartfelt belief that a new day is dawning. "Some people are resisting this undercurrent of change because they feel threatened by it", Cash observes, "but I mean it when I say that the change is going to be for the better. I hope we're on our way there."
'Pack Animals' follows searing single 'Better Than That', which Double J named Best New Music, noting: "Some songs just hit that little bit harder… The marriage equality survey hurt a lot of people in the LGBTQI community deeply, and Cash Savage was one of those people. In 'Better Than That', the first single from the forthcoming Cash Savage & The Last Drinks album Good Citizens, she tells us how. And she does it with such strength and vulnerability that it'll take a cold heart not to appreciate it…. It's stark, simple and something that everyone should hear, regardless of your politics."