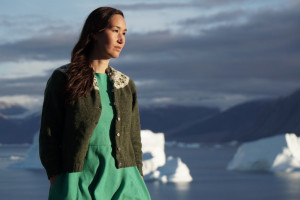 [trim length="250"]
---
Nive Nielsen and the Deer Children play original hummable folk melodies with a streak of vocal jazz or cowboy ballads with an elfin side. Nive is a Greenlandic artist who travels the world playing shows everywhere from Europe to Asia, and the Americas.
If you got a team of the greatest children's book writers in the world together, they couldn't invent Greenlandic folk pop singer Nive Nielsen. In her case at least, band bios are simply stranger than fiction. A few facts about her: The first concert she ever played was for the queen of Denmark on national television; she acted in the Hollywood movie The New World starring Colin Farrell; and she actually is Inuit — well, Inuk — an indigenous Greenlander. Also, it's daylight all summer where she lives.
A few more facts: She plays a little red ukulele in her band called the Deer Children. She writes songs about love and reindeer and forgetting to make coffee. She won an IMA – Independent Music Award in the US, worked with Howe Gelb and John Parish and friends from such indie royalty outfits as The Black Keys and Wolf Parade. Really, I'm not making it up.
What's even more surprising is that her fanciful back story is matched by her own ability to tell stories or sometimes just hint at them with her warm, reedy voice. Sometimes she sings out with and old-timey quaver; sometimes she sings in a soft, childlike murmur. The songs themselves are straight out of a storybook that never was. They could be from anywhere, and they are hard to place in time. They are hummable folk tunes on indie steroids with her international, very interesting group of musicians, to say the least. Her songs have a way of sticking in your mind — and not just because they were written by the only Greenlandic Inuit indie Band you can think of. Snow Songs? Inuit Indie? What ever it is, you have to check them out!
Nive and The Deer Children are:
Nive Nielsen – writes the songs, sings, plays guitar and ukulele,
Jan de Vroede – produces the songs and plays whatever lies around mostly things with keys and strings,
Charlie – guitar, banjo, saw and twang,
Jeppe Skovbakke – bass and low end,
Andrew Collberg – drums and such,
Salik Parbst + Nicolaj Brandt – horns and jangl'n things…
PRESS
"Nieve Nielsen makes folk interesting with a hint of rock and grunge" Fresh Beats 365
"These songs are shape-shifting beasts that twist as soon as you think you've got them pinned down" Folk Radio UK
Penny Black Music – interview 04/2016
Folk Radio UK – interview 02/2016
Glitterhouse Rec. – "Feet First" album press release, 11/2015
Glitterhouse Rec. – "Nive Sings!" album press release, 05/2012
---
[/trim]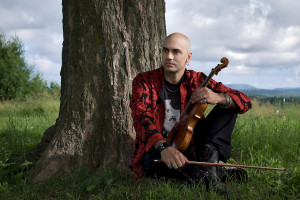 [trim length="250"]
---
"one of the best voices in music" – T Bone Burnett
Tim Eriksen is acclaimed for transforming American tradition with his startling interpretations of old ballads, love songs, shape-note gospel and dance tunes from New England and Southern Appalachia. He combines hair-raising vocals with inventive accompaniment on banjo, fiddle, guitar and bajo sexto, creating a distinctive hardcore Americana sound that ranges from the bare bones of solo unaccompanied singing on his album "Soul of the January Hills" (Appleseed 2010) through the stripped-down voice and bajo sexto Christmas album "Star in the East" (timeriksenmusic 2012) to the lush, multi-layered arrangements on "Josh Billings Voyage", the new album of northern roots American music from the imaginary village of Pumpkintown (timeriksenmusic 2012).
Eriksen's own compositions, which NetRhythms UK described as "strange and original works", have been featured in films like the Billy Bob Thornton vehicle "Chrystal" and the upcoming documentary "Behold the Earth". Eriksen's other notable work has included extensive contributions to Anthony Minghella's 2004 Oscar-winning film "Cold Mountain" as well as collaborations ranging from hardcore punk and Bosnian pop to symphony orchestra and the 2010 Grammy-nominated album "Across the Divide with Afro-Cuban world-jazz pianist Omar Sosa.
The former frontman of the prophetic groups Cordelia's Dad (folk-noise), Northampton Harmony (shape-note quartet) and Zabe i Babe (Bosnian folk and pop), Tim Eriksen is the only musician to have shared the stage with both Kurt Cobain and Doc Watson, and his media appearances have ranged from Prairie Home Companion to the Academy Awards. Having graduated from early shows at punk mecca CBGB, Tim's more recent performances have included his Carnegie Hall debut as a soloist in Even Chambers' symphonic work "The Old Burying Ground" and two week-long stints at the Blue Note Jazz Club with Omar Sosa. In the studio, he has worked with producers including Joe Boyd, T-Bone Burnett and Steve Albini.
While Eriksen's curiosity and passion have led him on many musical journeys besides American roots – from punk rock and shape-note gospel through South Indian classical music and Bosnian pop to world jazz and contemporary symphonic music – all his explorations are linked by the qualities of intensity, directness, and authority which combine in a music that captures a truth about human experience and expresses it without apology.
TEACHING AND SCHOLARSHIP
Tim Eriksen's work as an ethnomusicologist and teacher has included extensive research on shape-note music in New England and the venerable Sacred Harp four-part harmony tradition. He is a founder of what is currently the world's largest Sacred Harp singing convention, in Northampton, MA. In the words of Paste Magazine editor Josh Jackson, "no one has done more to help revive Sacred Harp singing among a younger generation."
Eriksen has taught college courses including American Balladry, Global Sounds, Film Music from Hollywood to Bollywood, American Music, and Songwriting at Dartmouth College, Amherst College, Smith College, The University of Minnesota, Hampshire College and Wesleyan University. In addition, he has taught hundreds of hour- to week-long workshops and seminars in shape-note harmony singing, American music history, ballad singing and instrumental accompaniment at festivals, universities, museums and arts centers, including the Smithsonian Institution, Harvard University, the Society for Ethnomusicology Convention, Colours of Ostrava Festival (Czech Republic), Camp Fasola (Anniston, AL) and the Early Music Festival in Jaroslaw, Poland. His students have ranged from a group of kindergarteners at an inner city school in Portland, Oregon to Nicole Kidman, Elvis Costello, Sting and a group of fifty Romanian extras in the film Cold Mountain and the senior citizen members of the now legendary Young at Heart Chorus.
---
[/trim]
[trim length="250"]
---
NO Blues is the crossroad where Folk, Blues and Arabic music meet, it's an Arabicana.
Arabicana
You will not find the word 'Arabicana' in any encyclopedia except in combination with the band NO blues. What started as experiment became a full blown musical genre. They called their unique mix of Americana (folk, blues and country) and Arabic music; 'Arabicana'.
Oh Yeah Habibi (2015): ten years and up-to-date
If you look up the word 'arabicana' you find a music genre and its inventors; NO blues. Even after ten years the band that combines Oriental roots music and American folk blues is still unique in the world.
On the new album Oh Yeah Habibi, NO blues bridges the gap between east and west and changes the Nile and the Mississippi in one meandering musical delta. Even though the band has been together for ten years, the new album Oh Yeah Habibi sounds direct and fresh like a debut album. Oud player Haytham Safia: "We went back to the core of guitar, oud, double bass and percussion." Different from the previous albums, NO blues chooses to use current events as topics for their songs. Songs like Exodus and The World Keeps Turning refer to people that seek refuge and Two Trains and Gods Move refer to religious themes. "It struck us that our music seemed to have a different energy after the terrorist attack on Charlie Hebdo," says bass player Anne-Maarten van Heuvelen. "NO blues has always been a political statement in music, we had to follow that up with our lyrics." Guitarist Ad van Meurs: "We've never been a political band, but we definitely don't look the other way either."
Oh Yeah Habibi is more on topic than previous NO blues albums and the critically acclaimed arabicana from this Dutch based top team that has been working together for ten years, still has great impact. In twelve new studio tracks the band reaches a next level in their musical embrace between east and west.
NO blues are:
Ad van Meurs (vocals, guitar),
Haytham Safia (vocals, oud),
Osama Maleegi (percussion),
Anne-Maarten van Heuvelen (vocals, bass),
Ankie Keultjes (vocals, synthesizer).
History
In 2004 Rob Kramer – artistic director of productiehuis Oost-Nederland – invites three string virtuosos for a three-day session that should result in one joint concert. The spontaneously developed synergy between Anne-Maarten van Heuvelen (bass), Ad van Meurs (guitar) and Haytham Safia (u'd – Arabic lute) lead to hundreds of shows and four NO blues albums. Vast Arabic scales mingle with tight blues schedules. In 2007 NO blues becomes a quintet with the advent of percussionist Osama Maleegi and vocalist and producer Ankie Keultjes. Meanwhile, they also conquer the world music lovers in France, Greece, Mexico and in many Arab countries.
NO Blues discography
Farewell Shalabiye (2005)
Ya Dunya (2007)
Lumen (2009)
Hela Hela (2010)
Kind of NO blues (2013)
Oh Yeah Habibi (2015)
---
[/trim]