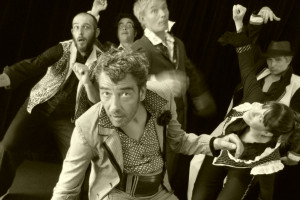 [trim length="250"]
---
Between New Orleans street brass band and mini-big fairground band, common jazz combo and bunch of mimes and circus clowns, the Sergent Pépère are something unique. With their shimmering rhythms and charming ingenuity the band mixes balkan, gypsy and oriental tunes with jazz, chanson, latin, folk and circus music. But what makes their show so irresistible event is their kind- hearted human humour, which is easy comprehensible for an audience of all kinds, nationalities and ages. Indoor or outdoor, across France and Europe, Sergent Pépère has been giving happiness and pleasure to children and grown up for more than 10 years now.
The Sergent Pépère was born in 1998 in French/Bretagne city of Rennes. The band started as a part of street theater Arpion Celeste and lately has morphed to the regular band. Members of the band are experienced both as actors and musicians of many musical styles. On their concerts these musicians are able as well to make their audience twitching with an incredible deal of energy as to smoothly embark them to the road of an intoxicating imaginary folklore. On stage or on streets the Sergent Pepere tumbles and sets the tone!
Selected performances:
Francophilles, Terre-Neuvas, Coup de chauffe, Jazz a la Villette, Jazz en Touraine, Les Fondus du Macadam, Paleo Festival, Colours of Ostrava, Folk Holidays festival and many more… + touring United Kingdom, Germany, Czech Republic, Slovakia, Romania, Spain.
Press quotes:
Wild Polka, bohemian jazz, oriental group… The Sergent Pépère's mix is astonish! Ouest- France
There is the Sergent Pépère, and the show goes on with their delirious musical show with its mimes, acrobatic gags with 6 cranks outfitted kind of serbo-croatian middle age style! ( Lester Bowie's brass band is not so far): a real success! Jazz Hot
With this psyche name, a crazy and coloured direction, and a singular instrumentation, Sergent Pépère is remarkable in the middle of the happy brass bands. Precise, falsely chaotic, their music blows and tinkles with class and impudence, with simple fancy. Not folk: but rare; I said! Radio Ceros
The 6 musicians, or I should say "the folklorico-mobil disarming commando" as they call themselves, proposed some jazz, gipsy songs, ouzbeks, latino with casualness. Good mood for sure! La Montagne
---
[/trim]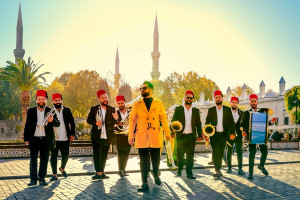 [trim length="250"]
---
Džambo Aguševi Orchestra is a brass band from Macedonia virtuously performing a music that might be defined as fusion of traditional Balkan, Gypsy and Turkish music influenced by swing, jazz and pop and film music, today considered as one of top Balkan brass bands.
Džambo Aguševi was born in Strumica, Macedonia, in 1987 in a family with long and significant musical tradition. Since his childhood, following example of his father Cemal and his uncle Koco, Džambo never even considered an alternative to a music career. At the age of 11 he became a member and the third trumpet of Aguševi Orchestra founded by Koco Agushev, who was a legendary trumpet player, well known in the Balkans and appreciated musician abroad.
Every trumpet player who wants to be fully respected in the Balkans must take part in competitions. Džambo embraced all challenges and went to compete at "Kumanovo Trumpet Fest" in 2006, downsizing other musicians and conquering deserved first place. From 2006 until 2011 the new star of the Aguševi Orchestra was the absolute champion in Kumanovo, until he was banned to compete in order to leave some possibilities for the other trumpet players! In 2011 he took a part to the competition in Pehcevo and managed to win all the prizes, impressing the jury.
It is widely known that the dream of every trumpet player of the Balkan region is to win the Guća Festival. The famous "Dragacevski Sabor" in Guca, Serbia (also known as "Golden Triumpet competition") is since the sixties the most important event of this kind in the whole region and probably in the world. At the World competition in summer of 2011, The Aguševi Orchestra received the first prize and Džambo wrote his name in the history of this famous event: both the judges and the audience appraised the Orchestra and its young leader. The victory in Guća was followed by another victory in Pehcevo in 2012, with the consequent request from the organization not to compete anymore, because Aguševi Orchestra took all the possible prizes.
The Orchestra joined the cast of Memento-Momento, memorable concert event by Nino D'Angelo, directed by maestro Roberto De Simone at the prestigious San Carlo Theatre in Naples. Very impressed by the energy of these musicians the legendary De Simone insisted to have the band as a part of celebrations for the proclamation of the Gigli of Nola / UNESCO heritage.
After having been the main attraction in Mexico City Festival Historico, where the orchestra has entertained 35.000 people, la Banda gitana del momento was going to tour to France, Italy, Albania, Turkey, Austria and Switzerland throughout 2014 and was also invited to perform at the WOMEX 2014 conference and festival.
PRESS
I Want My Trumpet to Sound Like Cry (Independent Macedonia)
Džambo Aguševi Orchestra: Diamond fingers (Harmonie magazin)
---
[/trim]