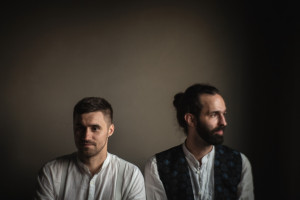 [trim length="250"]
---
A broad take on jazz, a fascination with rhythmic sequences, and abstract vocals: Zabelov Group is the musical dialogue between Roman Zabelov, accordionist from Belarus, and Jan Šikl, Czech drummer and multi-instrumentalist. Their original acoustic puritanism gradually transformed into complex cinematic music accompanied by samples and acoustic instruments enhanced by electronics. Zabelov Group's musical endeavour is permeated by the effort to maintain live contact with the instrument but provide the entire spectrum of club sounds while performing as a duo. They released a must-hear album titled "Eg" on Minority Records in October 2018.
Since the album release the band performed at several important festivals like Eurosonic Noorderslag Groningen, MENT Ljubljana, JazzFest Brno, Spring Break Poznan, Jazzinec Trutnov, Live Rock Toscana, Space X Prague etc. and received very good reviews from international media.
PRESS
Their unique interpretations fused ambient textures, freeform jazz, cinematic dance and even post rock into just under forty-five minutes, and for the most part was a revelation. Zabelov's pained facial expressions throughout coupled with Sikl's rhythmic accompaniments bore all the hallmarks of two craftsmen deep in concentration, fully focused on the task at hand. Gigwise.com
Unexpected, intrinsic music. Blending together sparse electronics with jazz flourishes, this duo manage to be both complex and effortless all at once. DIY magazine
It takes a little while to wrap your head around the quirks and offshoots embedded within Zabelov and Šikl's music, but once it clicks you'll have a hard time ignoring it. Allthingsloud.com
It is jazz, and it is not jazz. It is modernism, but full of tradition at the same time. It is a semi-improvised, complex musical structure thats swirls with a perfectionistic care about every sound and every detail. Beehy.pe
A bright flash on the alternative music scene. Reflex magazine
The potential of the sound possibilities and the interplay of the all-electronic modulated sound of accordion and percussion, functionally complemented by a host of other instrumental and vocal tracks and samples, is tightened to its full shape. This music defies the description. All the more colorful are the feelings it evokes. UNI cultural magazine
---
[/trim]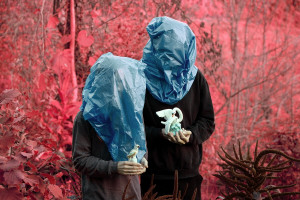 [trim length="250"]
 After passing the bless on latest album, in 2019 Darla Smoking presened their new album "Extinct", dedicated to all the wanishing live on our planet. "Extinct" will try to awake and remind again that the battles against extinction from some decades ago are still there and haven't been getting any attention and help in solving the situations. We still have Native Americans without their prairie, Tibetian people being forced to become Chinese, Maori and Aborigini tribes drowning in the big city's slums, massacre in Amazonia and the last sheppard in Bulgaria who is being sucked into globalisation. It goes all the way to the plastic soundscape under the Arctic sea. All in all the new album will spit out the dying screams and helpless anger while we all quietly watch the world blow in our faces. Extinct is the new dead.
Darla Smoking is a Slovenian duo of crazed cats, Brgs and Nac, who seriously shook the Slovenian grounds with the release of "Big Bug" on Kapa Records in 2017. Darla mixes various influences and sounds, including field recordings from various parts of the world, which Nac then carefully electronically processes. Brgs on the other hand provides a constant drum drive, combined with extensive use of modular synthesizers. Their sound is therefore extremely multifaceted, with the most dominant elements of world or ethno music, dub and psychedelia, but their music reaches and goes far beyond just these genres. Album Extinct is supported with live visuals on concerts by Atlas Skull who is part of Darla's visual message from the beginning. 
"A post-everything cacophony of brilliance that barges into your brain and forces your limbs to dance. It's dub music for rockers, punk music for the electro generation, world music for the outcasts and night owls. Few bands ever get close to creating such a hedonistic, seductive racket, but that's because few bands are like Darla Smoking." Europavox.com
"Incredibly interesting, unusual, challenging and fresh album" Rockline.si
"The Big Bug album is proof that people who rush through life often overlook the unique moments which make this world so beautiful" RockOnNet webzine
[/trim]
[trim length="250"]
With their original, hot mix of alternative rock, psychedelic, electronica and country the Nylon Jail were shining supernova of Czech music scene between 2012-2014 and like supernova with explosion disappeared in 2015. Luckily for all of us the core of the band has survived and now is back with new videos which announce a new album in the spring 2018 + beginning of live concert activity.
We are proud Nylon Jail to be a new member of our artist family and open booking for 2018.
New videos:
Website: www.nylonjail.org
[/trim]