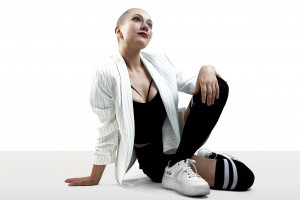 [trim length="250"]
ILÆY is a singer, songwriter, producer and voice-over artist. Born in Turkey, based in Prague, she represents a thrilling intersection of Avant-pop and Turkish folk music, narrated by an alluring and moving voice. She puts together various cultural influences in her dramatic aural stew and her densely layered music.
Her musical journey started during her childhood and evolved to a full passion for stage. She has performed at various festivals around Europe such as Karneval Der Kulturen Berlin, Kansai Music Conference, IKSV Istanbul Jazz Festival, Colour Meeting Festival and Mladi Ladi Jazz/Jazzbit. She has won several singing and jazz competitions, including the Istanbul Culture and Arts Foundation (IKSV) Young Jazz Competition — twice and recently she got into the finals of 1Band2Play organised by FullMoonZine in Czech Republic in 2020.
She received full scholarships for Musical Theatre programs of the New York Film Academy and the American Musical and Dramatic Academy. She has done Turkish voice-overs in Disney, Hasbro Studios, DreamWorks and Netflix productions and voiced characters who originally featured Jessie J, Gloria Estefan, Phillipa Soo, Gillian Anderson— to name just a few.
Ankara, Istanbul and Prague, the three cities ILÆY has lived in, add to her transcendent combination of Trip-hop, Avant-Pop and Folk in her original solo project. In addition to her solo project, in Prague she collaborates with artists like The Ochepovsky Project, Shum Davar and more.
PRESS
"ILÆY gives the songs an otherworldly atmosphere and tension, which just adds to the combination of Turkish Folk, Space Rock, House, and Trip Hop – to namecheck just a few influences. ILÆY's emotional and expressive voice will hypnotize you. Prague by way of Ankara, her layered synths and samples is a world where Europe meets Asia and the result is musically transcendent."
— Rick Manore (CPop Gallery, Music Hall Center for the Performing Arts · Detroit)
Prag'ta iki Türk müzisyen: Blackloud ve ILÆY (Posta.com/TR)

Yeni teklisi "Kızıl Çimen"i dinleyicilerle buluşturan ILÆY ile bir röportaj… (Bikuble.com)
Ankara konserinin tadı damağımda kaldı (Hurriyet.com.tr)

---
[/trim]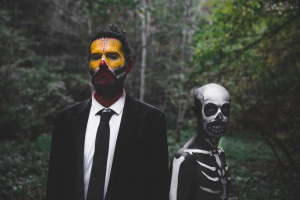 [trim length="250"]
 After passing the bless on latest album, in 2019 Darla Smoking presened their new album "Extinct", dedicated to all the wanishing live on our planet. "Extinct" will try to awake and remind again that the battles against extinction from some decades ago are still there and haven't been getting any attention and help in solving the situations. We still have Native Americans without their prairie, Tibetian people being forced to become Chinese, Maori and Aborigini tribes drowning in the big city's slums, massacre in Amazonia and the last sheppard in Bulgaria who is being sucked into globalisation. It goes all the way to the plastic soundscape under the Arctic sea. All in all the new album will spit out the dying screams and helpless anger while we all quietly watch the world blow in our faces. Extinct is the new dead.
Darla Smoking is a Slovenian duo of crazed cats, Brgs and Nac, who seriously shook the Slovenian grounds with the release of "Big Bug" on Kapa Records in 2017. Darla mixes various influences and sounds, including field recordings from various parts of the world, which Nac then carefully electronically processes. Brgs on the other hand provides a constant drum drive, combined with extensive use of modular synthesizers. Their sound is therefore extremely multifaceted, with the most dominant elements of world or ethno music, dub and psychedelia, but their music reaches and goes far beyond just these genres. Album Extinct is supported with live visuals on concerts by Atlas Skull who is part of Darla's visual message from the beginning. 
"A post-everything cacophony of brilliance that barges into your brain and forces your limbs to dance. It's dub music for rockers, punk music for the electro generation, world music for the outcasts and night owls. Few bands ever get close to creating such a hedonistic, seductive racket, but that's because few bands are like Darla Smoking." Europavox.com
"Incredibly interesting, unusual, challenging and fresh album" Rockline.si
"The Big Bug album is proof that people who rush through life often overlook the unique moments which make this world so beautiful" RockOnNet webzine
[/trim]
[trim length="250"]
With their original, hot mix of alternative rock, psychedelic, electronica and country the Nylon Jail were shining supernova of Czech music scene between 2012-2014 and like supernova with explosion disappeared in 2015. Luckily for all of us the core of the band has survived and now is back with new videos which announce a new album in the spring 2018 + beginning of live concert activity.
We are proud Nylon Jail to be a new member of our artist family and open booking for 2018.
New videos:
Website: www.nylonjail.org
[/trim]