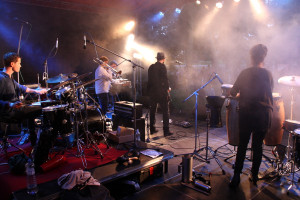 [trim length="250"]
Colour Meeting multi-genre festival will welcome musicians and theatre artists from 10 different countries.
The 15th edition of the multi-genre music and theatre festival, Colour Meeting, will take place on July 13-14th in Polička. Visitors can look forward to seeing musical and theatre projects from 10 different countries ranging from Australia and Guadeloupe to Czech Republic and Slovakia. They will have a chance to attend a range of workshops and taste local cuisine served on porcelain.
An eclectic and carefully-selected programme is typical for Colour Meeting. The Guadeloupean trio Delgres is a dream come true for a programme manager of any festival. They fuse the songs of Caribbean slaves from the delta of the Mississippi river with a proper rock' n' roll drive. Ross Ainslie & Ali Hutton are celebrities in Scotland and beyond. They are strongly influenced by traditional pipes as well as AC/DC, Béla Fleck and electronic music. In 2017, they were awarded the BBC Radio 2 Folk Award.
An unyielding feminist septet from Tarragona in Catalonia, Roba Estesa sings about equality, revolution and love. They staunchly defend their cultural legacy and freedom in the rhythms of cumbia and catalone rumba. Rhyece O'Neill & The Narodniks from Australia are a fusion about as safe as a cut-throat razor. They feel at home in rock'n'roll, blues, punk and country. O'Neill is also a writer, poet and producer. Electro-dub duo Darla Smoking from Slovenia will take you on a journey around the world.
Let's not forget about songwriters. You can look forward to listening to the strong, emotive voice of Fabe Vega from Switzerland who has been heard on streets and stages all around Europe. Poland will also be represented by Daniel Spaleniak and his etheric blues-folk, the latest discovery of its vibrant songwriting scene. There will also be a place for bands straddling different continents. Metronome Blues from Brno, lead by charismatic New Zealander Rhys Braddock, are fundamental to the local club scene and are well-known for their thick guitar riffs. Czech – Italian duo Oswaldovi consisting of two voices, electric guitar and minimalistic percussive instruments play a mixture of psychedelic rock, blues, southern folk, all spiced up with the soundtrack of spaghetti westerns.
Colour Meeting will not forget about the domestic scene. Sto Zvířat will literally fill up the stage. These ska-matadores don't rest on their laurels even after 30 years of playing together. Their energetic stage show and hilarious lyrics are a guarantee of an extraordinary performance. You can expect a similar drive from the Circus Brothers who will play their disco-balkan mix. A special set has also been prepared by Pio Squad, a top band of Czecho-slovak rappers who will make one of the four stops of their acoustic tour here in Polička. It has been a fruitful year for duo Kalle from Tábor. Their latest album, Saffron Hills, has received many awards including Anděl, Apollo and Best Czech Vinyl Desk 2017. Another artist who has a few Anděl awards in her collection is highly-regarded multi-genre pianist Beata Hlavenková, whose recent work includes the soundtrack to David Ondřiček's movie Dukla 61.
Rock enthusiasts will be delighted to see Dirty Old Dogs, who get their inspiration from 70's hard rock, grunge, blues and psychedelic music, as well as Neznámému bohu project who are deeply inspired by the forests and literature. Milli Janatková is a true renaissance woman: a distinctive singer, songwriter, multi-instrumentalist, composer, visual artist and lecturer who will not only perform, but also lead an artistic workshop. Visitors will also have a chance to try out their skills during a percussion workshop with Zeměznění project, as well as see theatre performances by Theatre 100 Opic and Theatre Toy Machine.
Ticket pre-sales at selected shopsor GoOut
Festival Colour Meeting, 13.-14. 7. 2018, Polička, www.colourmeeting.cz
FB event:https://bit.ly/2HqC4zD
[/trim]