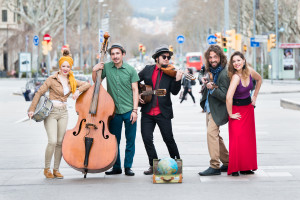 [trim length="250"]
The Carioca-Japanese-Portuguese-Italian songwriter, Luiz Murá, was born in one of the paradise cities in the world Rio de Janeiro, Luiz always had been close to a musical atmosphere. Hearing samba on the bars and streets together with by his multicultural family. One Japanese grandfather born in Peru, another Portuguese grandfather from Madeira Portugal. One Grandmother from Brazilian-Japanese Family and the other Brazilian-Sicilian-Calabrese family. Mixing music and cultures have been going on since before he was born.
Luiz Murá left Brazil with the dream of finding music cultural connections between Brazil and other a countries around the world. It was on the Mediterranean Barcelona, that he met the Italian violinist Agostino Aragno, Desirée Miras from Spain, the contrabassist Ernesto Vargas from Mexico and the drummer Gloria Maurel from Barcelona. They all found the perfect environment to put at test their dreams: Moroccan gimbris, Italian singers, Flamenco dancers, Brazilian sambistas, Irish fiddles, Senegalese djembes, Russian bayans, Mexican mariachis and Romenian gypsies were unconsciously performing the same song, with a new sound and flavour. That became the core of MiraMundo's path. Connecting Cultures that seem different through music.
[/trim]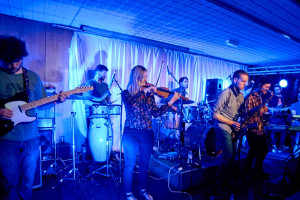 [trim length="250"]
In october Scottish band/orchestra FAT-SUIT will play for the first time in the Czech Republic. The band has been assembled from Scotland's finest young musicians with deep roots in Jazz, Funk and Soul. More than that, they effortlessly assimilate influences from Fusion, House, Brass-Rock and Scottish folk music to create a vibrant new musical musical vocabulary. Their second album "Jugaad" has gained attention and positive reviews from both music professionals and audience. On this tour the band is going to promote their fresh new album "Atlas" (release date 30 October).
12/10 – Žatec, Divadlo
13/10 – Olomouc, Jazz Tibet Club
15/10 – Vsetín, Jazzový festival
21/10 – Praha, Jazz Dock