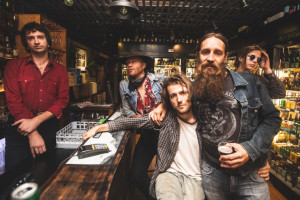 [trim length="250"]
---
RHYECE O'NEILL has played pubs and bars in the outback and cities all over the Australia. He has toured and performed with The Beasts of Bourbon, The Ape, The Brian Jonestown Massacre, Spencer P. Jones and more. Steeped in the blues, rock & roll, punk and country O'Neill's influences range from Iggy Pop, Rowland S Howard, Einstürzende Neubauten, the Bad Seeds, Stanford Clarke, W.H. Auden, Rimbaud, PJ Harvey, Sylvia Plath, Patti Smith, Henry Miller, Townes Van Zandt, Dostoyevsky, Lightnin' Hopkins, John Lee Hooker & Dylan.
O'Neill's trade is the written word. A prolific poet, novelist and songwriter he has completed his second novel "Run To The Dust" based on his experiences as a union delegate leading an industrial dispute working on a huge construction project in the desert – around the time large parts of his second album "Death of a Gringo" was written. Late last year he finished his first collection of poems, The Condition Report 45.
2018 saw the NARODNIKS release the Death of a Gringo album on Beast Records in France. Following this release the band embarked on their European tour playing over 41 dates across the continent including 3 shows at the legendary Binic Blues festival in France. While in the Czech Republic they recorded at Sono Records studios with legendary engineer and producer Milan Cimfe who has worked with David Bowie, Lou Reed and Kris Kristofferson.
O'Neill and the band plan to release their thirth album in late 2019. They are going to tour Europe in November 2019. "Jesus in Hell", the first single from the album was premiered in Australia on 25 December 2018 via Happy Mag (listen to here).
PRESS
"Think Nick Cave & The Bad Seeds meets the old school sounds of The Veils meets Mark Lanegan… Filled with tension and drunken swagger with a deliciously complementing haunting violin: Australian singer songwriter Rhyece O'Neill impresses us with "The Fire in You." Gobsmag.nl 
"Ubermensch Blues" grabs you first time and you'll be returning over and over. It's a sound investment, if not essential. i94bar.com
Christmas, Jesus, and modern visions of hell: we chat with Rhyece O'Neill, Happy Mag
---
[/trim]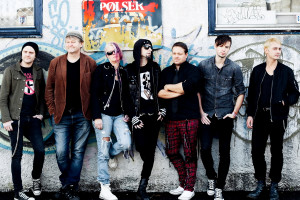 [trim length="250"]
---
The irish-punk pioneers Greenland Whalefishers started out in Bergen, Norway, in 1994, long before anyone had heard of bands like Flogging Molly or Dropkick Murphys. Combining British punk with Celtic folk influences, the band soon became one of the most interesting post-Pogues bands.
Two decades of touring all around the world, sparkling live shows. releasing nine full length albums, piles of singles and EPs, an uncountable number of split-releases, a documentary movie and contributing with music to the movie "Boondock Saints – All Saints Day", places the underground folk punkers in Greenland Whalefishers as one of the worlds most credible celtic rock bands.
"Greenland Whalefishers picked up where the Pogues left off and are consistently setting the standard for Paddy Punk with every release." – John Bowles –paddyrock.com (Chicago, USA)
As a part of the celebration of Greenland Whalefishers ́ 20th anniversary in 2014, the band released the documentary movie "20 Years Of Waiting" covering the entire history of the band. The movie gained fantastic reviews: "
all was answered and more by this amazing Rockumentary celebrating 20 years of one of the greatest Paddy Punk bands in the world ever." -paddyrock.com ( New York, USA ).
Greenland Whalefishers have toured in the USA, Japan, England, Germany, Italy, Scotland, Poland, Ireland, Czech Republic, The Netherlands, Belgium etc, and on stage they met lot of their colleagues and friends like Shane MacGowan, Dropkick Murphys, Dubliners or The Real McKenzies. And they will continue touring all over world with more power and energy than ever on what may be called their never ending world tour. It is all this hard work and all the experience touring that has made critics applaud the bands albums and concerts saying " this is probably one of the best Celtic Punk bands you will ever see perform live".
---
[/trim]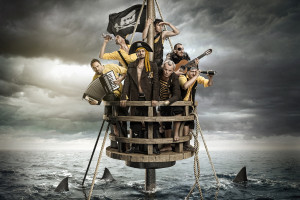 [trim length="250"]
---
Once upon a time (2003) in a dubious corner of the world and a land called Bosnia and Herzegovina, a group of friends decided to form a band. But this was no ordinary band, and they did not form under ordinary circumstances. True, along with local Balkan flavors, musical influences came from all over the world: ska, punk, reggae, electronic, hiphop. Yet, there was no music industry, few concerts, no space for cultural or political expression among the new crop of plugged in youth. In fact, the entire region was reeling from deep moral and economic post-war stagnation. It was from this environment that DUBIOZA KOLEKTIV was born, and not quietly, but kicking and screaming, presenting no-go topics front and center, and demanding to be heard. In doing so, they created a phenomenon.
For a quick rundown of the band's history, their selfentitled first album "Dubioza kolektiv" was released in 2004, and was instantly met with an enthusiasm not seen on the Bosnian scene since pre-war times. Next came the EP "Open Wide", this time featuring dub poet Benjamin Zephaniah and Mush Khan from Funda-mental. Then came their second full-length CD "Dubnamite" and this is when their popularity began tospread beyond Bosnian borders. By 2008, with the release of "Firma Illegal", their bold and uncompromising stand against the nationalist establishment elevated them to fame across the entire Balkan region. In 2010, album number four titled "5 do 12" followed, and in an open snub to ultra-capitalist music labels and as an expression of commitment to their fans, Dubioza made the album available for free download at dubioza.org.
It was around this time that Faith No More's Bill Gould discovered Dubioza Kolektiv, and his label Koolarrow Records, picked up their fifth album "Wild Wild East" and introduced the band to the international stage with worldwide distribution.
"Apsurdistan" was released in 2013, becoming a huge success with more than 300,000 downloads. Animated music video for the featured track "Kažu" was viewed 35 million times on YouTube and their Western Balkans tour sold-out arena-size venues. All of this, along with a relentless approach to touring, has brought Dubioza's sounds to every corner of Europe.
In 2016, the band released their seventh LP album, "Happy Machine"with guest appearances by Manu Chao, Benji Webbe from Skindred, Punjabi singer BEE2, Catalan ska-rumba band La Pegatina and trumpet player Džambo Agušev from Macedonia. Inspiration developed over two years, largely inspired by events that unfolded over that time – from Istanbul's Gezi park protests ("All Equal") or the Syrian refugee crisis and Europe's shameful response to it. The video for the album's single "Free.mp3 (The Pirate Bay Song)" was featured on the homepage of the world's most famous torrent site thepiratebay.org. Another highlight was the video and the song itself – "No Escape (from Balkan)". Their first US-tour followed, with a debut at SXSW and concerts in several North American cities in venues such as 9:30 in Washington, D.C. They were selected as No.1 band at 2016 Eurosonic festival, per European festivals votes.
"Pjesmice za djecu i odrasle", another album in their local language, was released in 2017, in combination with a feature documentary "Film za djecu i odrasle" that chronicled the band's history and making of the album. "Himna generacije" and "Rijaliti" became instant hits with millions of views.
Following in the footsteps of their previous collaboration on the song "Red Carpet", Dubioza kolektiv and Manu Chao teamed up for another power-house single "Cross the Line", announcing their new album "#fakenews", which will be available at the end of January 2020. The album features guest appearances by legendary dub-reggae artist Earl Sixteen from Dreadzone, Soviet Suprem, Mexican band Los de Abajo and an exclusive appearance by Robby Megabyte, soon-to-be-famous Internet superstar robot. Songs are in English, Spanish and Google-translated French.
Over the years, Dubioza Kolektiv became the biggest band in the Balkans, with sold out shows in venues with 12,000+ capacity in Zagreb, Belgrade, Ljubljana, Pula, Rijeka, Split, Sarajevo, Sofia, etc. Besides the Balkan region, they played sold out shows in USA, Canada and all across Europe: London, Amsterdam, Berlin, Dublin, Budapest, Oslo, Prague, Vienna, Madrid, etc. The band also performed at major European festivals, such are Glastonbury, Roskilde, Lollapalooza, Boomtown Fair, Sziget and so many more. They set the attendance record at Exit Festival's Fusion stage and played in front of half a million people at Pol'and'Rock Festival, where they received Złoty Bączek award for the festival's best international performance in 2018, voted by the audience.
They toured and continue touring tirelessly, having over 100 shows per year. Audiences across the world recognized them as a must see live act. Their history has shown: these guys don't stop until they achieve their objectives. If you are looking for macho, money-and-ego driven posturing, you will not find it here – no MTV "rude boy" gangstas, no strippers or bling, no corporate endorsements from the international fashion industry. Rather, they take on traditional musical forms and enrich it with their unique perspective, which is delivered with a level of positivity that hits you like a blast of fresh air. If you are open to the experience, it could change your life too.
DISCOGRAPHY
2004    Dubioza kolektiv / Gramofon Rec.
2004    EP Open Wide / Gramofon Rec.
2006    Dubnamite / Gramofon Rec.
2007    Unpopular Singles / Gramofon Rec.
2008    Firma Ilegal / EKIPA / Menart / PGPRTS
2010    5 do12 / Menart
2011    Wild Wild East / Koolarrow Rec.
2013    Apsurdistan / Password Prod.
2015    Happy Machine EP / Password Prod.
2016    Happy Machine / Koolarrow Rec.
2017    Pjesmice za djecu i odrasle
2020   #fakenews / Menart
---
[/trim]