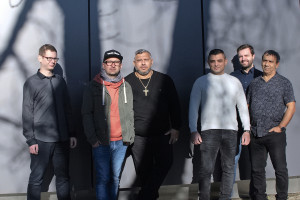 [trim length="250"]
---
TERNE ČHAVE are considered as probably the oldest working and definitely one of the most famous Roma (Gypsy) bands in the Czech Republic. The band is renowned for their distinctive sound blending Central European traditional gypsy music with funk, rock, soul, ska, jazz, blues and other influences. Many years ago these musicians have stood on their own feet and crossed borders of Roma ghetto. Bringing their gadjo friends as musicians among themselves they set out into the big world. Touring Europe from Czech Republic and Slovakia via Poland, Hungary, Italy, Spain, France, Germany, Benelux, England to Scotland, wherever they go people are dancing.
Today Terne Čhave are band without ethnic or genre limits but their gypsy roots give them a solid base for musical trips to destinations too distant for many others. The band doesn't fuss about style too much and you will have no time to think about it too because much of their songs are played with devil's tempo. But in case you wouldn't sleep this off we can reveal that this is the real gypsy rock'n'roll or … It's only Rom'n'Roll!!!
---
[/trim]
[trim length="250"]
---
Once upon a time (2003) in a dubious corner of the world and a land called Bosnia and Herzegovina, a group of friends decided to form a band. But this was no ordinary band, and they did not form under ordinary circumstances. True, along with local Balkan flavors, musical influences came from all over the world: ska, punk, reggae, electronic, hiphop. Yet, there was no music industry, few concerts, no space for cultural or political expression among the new crop of plugged in youth. In fact, the entire region was reeling from deep moral and economic post-war stagnation. It was from this environment that DUBIOZA KOLEKTIV was born, and not quietly, but kicking and screaming, presenting no-go topics front and center, and demanding to be heard. In doing so, they created a phenomenon.
For a quick rundown of the band's history, their selfentitled first album "Dubioza kolektiv" was released in 2004, and was instantly met with an enthusiasm not seen on the Bosnian scene since pre-war times. Next came the EP "Open Wide", this time featuring dub poet Benjamin Zephaniah and Mush Khan from Funda-mental. Then came their second full-length CD "Dubnamite" and this is when their popularity began tospread beyond Bosnian borders. By 2008, with the release of "Firma Illegal", their bold and uncompromising stand against the nationalist establishment elevated them to fame across the entire Balkan region. In 2010, album number four titled "5 do 12" followed, and in an open snub to ultra-capitalist music labels and as an expression of commitment to their fans, Dubioza made the album available for free download at dubioza.org.
It was around this time that Faith No More's Bill Gould discovered Dubioza Kolektiv, and his label Koolarrow Records, picked up their fifth album "Wild Wild East" and introduced the band to the international stage with worldwide distribution.
"Apsurdistan" was released in 2013, becoming a huge success with more than 300,000 downloads. Animated music video for the featured track "Kažu" was viewed 35 million times on YouTube and their Western Balkans tour sold-out arena-size venues. All of this, along with a relentless approach to touring, has brought Dubioza's sounds to every corner of Europe.
In 2016, the band released their seventh LP album, "Happy Machine"with guest appearances by Manu Chao, Benji Webbe from Skindred, Punjabi singer BEE2, Catalan ska-rumba band La Pegatina and trumpet player Džambo Agušev from Macedonia. Inspiration developed over two years, largely inspired by events that unfolded over that time – from Istanbul's Gezi park protests ("All Equal") or the Syrian refugee crisis and Europe's shameful response to it. The video for the album's single "Free.mp3 (The Pirate Bay Song)" was featured on the homepage of the world's most famous torrent site thepiratebay.org. Another highlight was the video and the song itself – "No Escape (from Balkan)". Their first US-tour followed, with a debut at SXSW and concerts in several North American cities in venues such as 9:30 in Washington, D.C. They were selected as No.1 band at 2016 Eurosonic festival, per European festivals votes.
"Pjesmice za djecu i odrasle", another album in their local language, was released in 2017, in combination with a feature documentary "Film za djecu i odrasle" that chronicled the band's history and making of the album. "Himna generacije" and "Rijaliti" became instant hits with millions of views.
Following in the footsteps of their previous collaboration on the song "Red Carpet", Dubioza kolektiv and Manu Chao teamed up for another power-house single "Cross the Line", announcing their new album "#fakenews", which will be available at the end of January 2020. The album features guest appearances by legendary dub-reggae artist Earl Sixteen from Dreadzone, Soviet Suprem, Mexican band Los de Abajo and an exclusive appearance by Robby Megabyte, soon-to-be-famous Internet superstar robot. Songs are in English, Spanish and Google-translated French.
Over the years, Dubioza Kolektiv became the biggest band in the Balkans, with sold out shows in venues with 12,000+ capacity in Zagreb, Belgrade, Ljubljana, Pula, Rijeka, Split, Sarajevo, Sofia, etc. Besides the Balkan region, they played sold out shows in USA, Canada and all across Europe: London, Amsterdam, Berlin, Dublin, Budapest, Oslo, Prague, Vienna, Madrid, etc. The band also performed at major European festivals, such are Glastonbury, Roskilde, Lollapalooza, Boomtown Fair, Sziget and so many more. They set the attendance record at Exit Festival's Fusion stage and played in front of half a million people at Pol'and'Rock Festival, where they received Złoty Bączek award for the festival's best international performance in 2018, voted by the audience.
They toured and continue touring tirelessly, having over 100 shows per year. Audiences across the world recognized them as a must see live act. Their history has shown: these guys don't stop until they achieve their objectives. If you are looking for macho, money-and-ego driven posturing, you will not find it here – no MTV "rude boy" gangstas, no strippers or bling, no corporate endorsements from the international fashion industry. Rather, they take on traditional musical forms and enrich it with their unique perspective, which is delivered with a level of positivity that hits you like a blast of fresh air. If you are open to the experience, it could change your life too.
DISCOGRAPHY
2004    Dubioza kolektiv / Gramofon Rec.
2004    EP Open Wide / Gramofon Rec.
2006    Dubnamite / Gramofon Rec.
2007    Unpopular Singles / Gramofon Rec.
2008    Firma Ilegal / EKIPA / Menart / PGPRTS
2010    5 do12 / Menart
2011    Wild Wild East / Koolarrow Rec.
2013    Apsurdistan / Password Prod.
2015    Happy Machine EP / Password Prod.
2016    Happy Machine / Koolarrow Rec.
2017    Pjesmice za djecu i odrasle
2020   #fakenews / Menart
2022    Agrikultura
---
[/trim]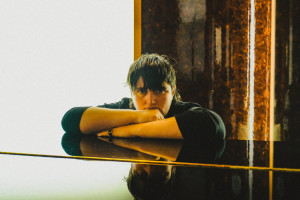 [trim length="250"]
---
"Savage sings like salvation depends on it – though not hers." The Guardian
"Savage is a hypnotiser, she's got me and she'll get you." 5/5 – The Herald Sun
You'd be hard-pressed to find a more exhilarating and heart-swelling live band in this country." – The Music
Hypnotising audiences worldwide with their signature brand of country, blues and indie rock plus irresistible authenticity, Cash Savage and the Last Drinks are an award-winning six-piece with a live performance hailed among Australia's best. Cash Savage's heart-pumping live shows are backed by the devastating honesty of her lyrics and the raw talent of the band behind her.
Following on from 2016's hugely acclaimed album One Of Us, 2018's Good Citizens raises the stakes and signals the ascent of Cash Savage and the Last Drinks as one of the heavy hitters of Australian music's new era. An incandescent live band at the height of their powers, led by mighty frontwoman Cash Savage, whose potent lyrics and impassioned delivery articulate the personal-political issues of these times with all her heart, guts and grit. Having towered over festival audiences at Golden Plains, Boogie and Sydney Festival, selling out The Corner in her hometown of Melbourne, and earning rave reviews for her recent packed-out Sydney show, Cash Savage and the Last Drinks are on a mighty roll. The band has also made serious inroads in Europe, playing to huge crowds at festivals such as Binic Festival (France), Colours of Ostrava or Rock For People (both in Czech Republic). Good Citizens begins and ends with a thought. "I'm thinking violence is the answer", Cash Savage sings as the Last Drinks rally behind her.
Of course, it's just a thought. And this is just a song. But the music Cash Savage is making is informed by real life — her own, and those of the people for whom violence, or the threat of violence, is inescapably real. The human beings who are called minorities and treated as though their lives matter less than others. The women and children on whom domestic violence is enacted, and those in the LGBTQ+ community for whom violence is an implied or overt threat behind the rhetoric of "family values" and "good citizens".
The album opens with "Human, I am", ringing out with a phrase that resonates in the #NotAllMen era: "It's okay, you're not one of them"; a disclaimer that many minorities feel they need to use when articulating the oppression they experience. The lyrics that follow call "time's up" on the need to apologise; "I know what I am, I'm not yours / Not a leader / Not a follower / Not brave / Not yours / I am human". "We're all humans," Cash affirms, "which means we're all part of the problem. And we're all part of the solution."
The first two singles released to date, "Better Than That" and "Pack Animals", both bear witness to the damage that prejudice inflicts, in the form of hurtful scrutiny or mindless mansplaining. The title track was inspired by disbelief of the warped representations of "mainstream" Australia portrayed in the TV commercials screened during a sporting event. "You don't need a job to be a good citizen," Cash insists. "You don't need to go to church to be a good citizen. You don't need to be married to be a good citizen. But a little bit of empathy could go a long way."
The album comes to a devastating conclusion with "Collapse", a song Cash wrote for her daughter. "I hope she understands that the world is a violent place," Cash explains. "She's growing up in a world where there's violence everywhere, but our privilege allows us to believe that violence is someone else's problem. The wars that are fought are at a distance. A non-violent life is a privileged life, and fewer and fewer people are living that privilege."
The politics of Good Citizens hit home all the harder for their juxtaposition amongst songs that are deeply, passionately, personal. The ache of missing a partner ('February'), the heady highs of falling in love ('Sunday'), and the triumph of knowing that love is indestructible ('Found You'). Even as it peers into the abyss of the anger and brutality that rock our times, Good Citizens burns with a fierce flame of belief in the goodness that may yet prevail.
In 2020, the band planned another European tour, but the worldwide coronavirus crisis changed their plans and the tour was postponed several times. However, in a time of total lockdown and streamed concerts, the band recorded a live album Live At Hamer Hall, which captures the band's vivacity and unbridled energy in this strange time, at a concert without an audience.
MEDIA QUOTES
"…But it's live that Savage and her Last Drinks come into their own. This was one hell of a powerful, confident and intense show." FBi Radio, Sydney Festival
"…country punk'n'roll coming out of the blackness with more power than the wind."
Rolling Stone Australia
"One of Us – Album of the week" Beat Magazine
"Savage comes at us with gruff, dirty-fingernails country-rock like her life depends on it" 4/5 Herald Sun 
"There's a pain that rattles the core of Cash Savage's third album… full of blues grunt and country groove that holler badass one minute and banjo tinged mellow the next" 4,5/5 – The Age
"The Hypnotiser is as assured and as compelling as anything released by an Australian artist this year… you know you are hearing a major new talent." 4/5 – The Courier Mail
"Savage and her band trade in spooky gothic folk blues, the cry of fiddle strings and bite of a banjo redolent of beer and smoke. It's a tense, sultry sound, staring down the fear that lurks on dusty, bloody, delta back roads, proselytising the gospel of rock's own truth, ripe with a sense of theatre and omens while embracing the simple pleasures of a little love song." 4/5 – The Age / Sydney Morning Herald
"The Hypnotiser is a melancholy, frank recording by an artist who has the ability to stick to her guns, yet be as chameleonic as she needs to be to get the job done. No mean feat." Mess + Noise
---
[/trim]