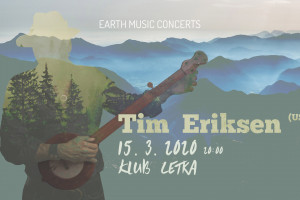 [trim length="250"]
Tim Eriksen unites a mastery of traditional American and world folk styles with innovative arrangement, original and experimental music. "One of the best singers in music" according to producer T Bone Burnett, he has contributed extensively to films including Cold Mountain, for which he worked closely with Jack White, Ralph Stanley and Nicole Kidman, and his song I Wish The Wars Were All Over was chosen by Joan Baez to be her final recorded musical statement. His singing and storytelling, alternately heart breaking and hilarious, showcase his ability to bring a rare depth of musical and emotional experience even to those who are completely new to his "hardcore Americana" and world music sound.
A multi-instrumentalist whose performances typically include banjo, fiddle, guitar, bajo sexto (Mexican twelve string bass) and kaval (Balkan end blown flute), Eriksen's influences range from the American folksong canon and "shape-note" music to Ottoman-era Balkan love songs and otherworldly indie folk. His theater and dance collaborations have included live original music for Minnesota Dance Theater ("In The Shadow Of The Mountain," 2006), Nimbus Dance ("Hollow Square," 2019) and the play "Refugee" by Milan Dragicevich (2017-2019). He has performed his ongoing "Pumpkintown," magic lantern musical theater from an imaginary village, at venues including Harvard University, Dartmouth College, Occidental College, Theatre
Thenardier (Paris), Konstepidemin (Gothenburg) and throughout the UK and US.
Eriksen's primary musical training was in South Indian classical music, and he holds a Ph.D. in ethnomusicology, but he cut his teeth playing punk, world and indie rock in seminal bands including Cordelia's Dad (post-punk and folk) and Žabe I Babe (Bosnian folk and rock). He has recorded with artists including Afro Cuban pianist Omar Sosa (on the twice Grammy nominated Across the Divide), English fiddle legend Eliza Carthy, and in composer Evan Chambers' symphonic song cycle The Old Burying Ground. His recent and upcoming work includes a second collaboration with Omar Sosa, collaboration with legendary producer Joe Boyd (Nick Drake, Pink Floyd) and a posthumous recording project with Esma Redžepova, "the queen of Gypsy music." With his longtime involvement in Sacred Harp or "shape-note" singing he has helped spearhead an international revival of the music, teaching workshops across North America, Europe and as far abroad as Singapore. Eriksen's media appearances have included Prairie Home Companion, Mountain Stage and the Academy Awards, and he
has been called the only performer to have shared a stage with both Kurt Cobain and Doc Watson.
TICKETS: https://goout.net/en/concerts/tim-eriksen/wsyhf/+wovnp/
www.youtube.com/user/batfancy
www.timeriksenmusic.com
www.facebook.com/timeriksenmusic
[/trim]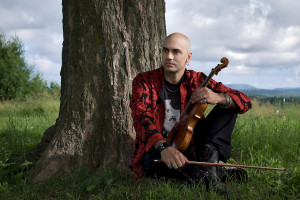 [trim length="250"]
---
"one of the best voices in music" – T Bone Burnett
Tim Eriksen is acclaimed for transforming American tradition with his startling interpretations of old ballads, love songs, shape-note gospel and dance tunes from New England and Southern Appalachia. He combines hair-raising vocals with inventive accompaniment on banjo, fiddle, guitar and bajo sexto, creating a distinctive hardcore Americana sound that ranges from the bare bones of solo unaccompanied singing on his album "Soul of the January Hills" (Appleseed 2010) through the stripped-down voice and bajo sexto Christmas album "Star in the East" (timeriksenmusic 2012) to the lush, multi-layered arrangements on "Josh Billings Voyage", the new album of northern roots American music from the imaginary village of Pumpkintown (timeriksenmusic 2012).
Eriksen's own compositions, which NetRhythms UK described as "strange and original works", have been featured in films like the Billy Bob Thornton vehicle "Chrystal" and the upcoming documentary "Behold the Earth". Eriksen's other notable work has included extensive contributions to Anthony Minghella's 2004 Oscar-winning film "Cold Mountain" as well as collaborations ranging from hardcore punk and Bosnian pop to symphony orchestra and the 2010 Grammy-nominated album "Across the Divide with Afro-Cuban world-jazz pianist Omar Sosa.
The former frontman of the prophetic groups Cordelia's Dad (folk-noise), Northampton Harmony (shape-note quartet) and Zabe i Babe (Bosnian folk and pop), Tim Eriksen is the only musician to have shared the stage with both Kurt Cobain and Doc Watson, and his media appearances have ranged from Prairie Home Companion to the Academy Awards. Having graduated from early shows at punk mecca CBGB, Tim's more recent performances have included his Carnegie Hall debut as a soloist in Even Chambers' symphonic work "The Old Burying Ground" and two week-long stints at the Blue Note Jazz Club with Omar Sosa. In the studio, he has worked with producers including Joe Boyd, T-Bone Burnett and Steve Albini.
While Eriksen's curiosity and passion have led him on many musical journeys besides American roots – from punk rock and shape-note gospel through South Indian classical music and Bosnian pop to world jazz and contemporary symphonic music – all his explorations are linked by the qualities of intensity, directness, and authority which combine in a music that captures a truth about human experience and expresses it without apology.
TEACHING AND SCHOLARSHIP
Tim Eriksen's work as an ethnomusicologist and teacher has included extensive research on shape-note music in New England and the venerable Sacred Harp four-part harmony tradition. He is a founder of what is currently the world's largest Sacred Harp singing convention, in Northampton, MA. In the words of Paste Magazine editor Josh Jackson, "no one has done more to help revive Sacred Harp singing among a younger generation."
Eriksen has taught college courses including American Balladry, Global Sounds, Film Music from Hollywood to Bollywood, American Music, and Songwriting at Dartmouth College, Amherst College, Smith College, The University of Minnesota, Hampshire College and Wesleyan University. In addition, he has taught hundreds of hour- to week-long workshops and seminars in shape-note harmony singing, American music history, ballad singing and instrumental accompaniment at festivals, universities, museums and arts centers, including the Smithsonian Institution, Harvard University, the Society for Ethnomusicology Convention, Colours of Ostrava Festival (Czech Republic), Camp Fasola (Anniston, AL) and the Early Music Festival in Jaroslaw, Poland. His students have ranged from a group of kindergarteners at an inner city school in Portland, Oregon to Nicole Kidman, Elvis Costello, Sting and a group of fifty Romanian extras in the film Cold Mountain and the senior citizen members of the now legendary Young at Heart Chorus.
---
[/trim]