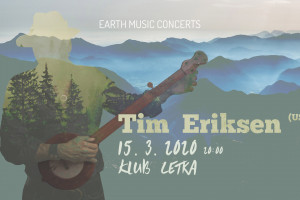 [trim length="250"]
Tim Eriksen unites a mastery of traditional American and world folk styles with innovative arrangement, original and experimental music. "One of the best singers in music" according to producer T Bone Burnett, he has contributed extensively to films including Cold Mountain, for which he worked closely with Jack White, Ralph Stanley and Nicole Kidman, and his song I Wish The Wars Were All Over was chosen by Joan Baez to be her final recorded musical statement. His singing and storytelling, alternately heart breaking and hilarious, showcase his ability to bring a rare depth of musical and emotional experience even to those who are completely new to his "hardcore Americana" and world music sound.
A multi-instrumentalist whose performances typically include banjo, fiddle, guitar, bajo sexto (Mexican twelve string bass) and kaval (Balkan end blown flute), Eriksen's influences range from the American folksong canon and "shape-note" music to Ottoman-era Balkan love songs and otherworldly indie folk. His theater and dance collaborations have included live original music for Minnesota Dance Theater ("In The Shadow Of The Mountain," 2006), Nimbus Dance ("Hollow Square," 2019) and the play "Refugee" by Milan Dragicevich (2017-2019). He has performed his ongoing "Pumpkintown," magic lantern musical theater from an imaginary village, at venues including Harvard University, Dartmouth College, Occidental College, Theatre
Thenardier (Paris), Konstepidemin (Gothenburg) and throughout the UK and US.
Eriksen's primary musical training was in South Indian classical music, and he holds a Ph.D. in ethnomusicology, but he cut his teeth playing punk, world and indie rock in seminal bands including Cordelia's Dad (post-punk and folk) and Žabe I Babe (Bosnian folk and rock). He has recorded with artists including Afro Cuban pianist Omar Sosa (on the twice Grammy nominated Across the Divide), English fiddle legend Eliza Carthy, and in composer Evan Chambers' symphonic song cycle The Old Burying Ground. His recent and upcoming work includes a second collaboration with Omar Sosa, collaboration with legendary producer Joe Boyd (Nick Drake, Pink Floyd) and a posthumous recording project with Esma Redžepova, "the queen of Gypsy music." With his longtime involvement in Sacred Harp or "shape-note" singing he has helped spearhead an international revival of the music, teaching workshops across North America, Europe and as far abroad as Singapore. Eriksen's media appearances have included Prairie Home Companion, Mountain Stage and the Academy Awards, and he
has been called the only performer to have shared a stage with both Kurt Cobain and Doc Watson.
TICKETS: https://goout.net/en/concerts/tim-eriksen/wsyhf/+wovnp/
www.youtube.com/user/batfancy
www.timeriksenmusic.com
www.facebook.com/timeriksenmusic
[/trim]
[trim length="250"]
---
A delicate singer-songwriter with the soul of a rocker and a gentle rocker in a role of a singer-songwriter. A romantic, poet and melancholic in one package with songs about searching for what we're all looking for. David Pomahač has started a solo career with his new solo album through Indies Scope label January 2020.
David Pomahač founded the project Bez peří, spent nine years in legendary Czech group  Houpací koně, and enjoyed the party of the supporting band for Xavier Baumaxa. The year 2010 gave rise to the urban folk duo Kieslowski. The intimate testimonies based on the sound of a guitar, piano, two vocals and David's lyrics gained a large fan base and full concerts both at home and abroad. Kieslowski released three full albums, several EPs, and got nominated for the Czech music Apollo Award.
"Kieslowksi era is over but the songs remain present at my shows. I like them and they are part of my story. My new album is intense, playful, entertaining, loud, I expect from myself to play the best gigs with it. I keep trying to do things better, perhaps even differently and more intensively than before," adds David.
---
[/trim]