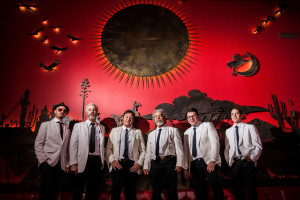 [trim length="250"]
Sometimes you listen to a band and say to yourself – that would be great to work with such amazing artist… yep, as you wish, here you go! We are happy to announce ORKESTA MENDOZA, hot and intriguing band from Tucson, USA, is a new member of our family. Check out the band's profile HERE.
[/trim]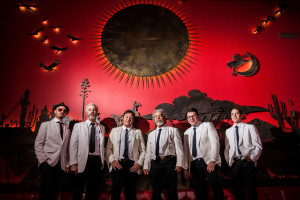 [trim length="250"]
---
"Sergio Mendoza is probably my favourite musician of this time. He has the cumbia and mambo in his DNA, but he has the power to make it sound like today. His Orkesta is as punk as the Sex Pistols and as violent as Perez Prado" — Camilo Lara, Mexican Institute of Sound
"Orkesta Mendoza is one of the best live bands out there. Their music delves into a myriad of directions, rhythms and moods, big band orchestrations mixed with lo fi electronica, vocals en Español together with moving instrumentals. The "Vamos a Guarachar" album is epic and soulful, it captures that positive spirit of the Southwest" — Joey Burns, Calexico
Something is stirring in downtown Tucson. That's no great surprise perhaps: Calexico have been sending out missives from the desert for 20 years now, Giant Sand for even longer than that, and the Green on Red revival is surely overdue. These three giants of American popular music ask questions of the form, chiefly because of where they are situated. Let us remind ourselves that this isn't a big city in the American sense (it's the country's 33rd largest), but that its hinterland is indeed as big as it gets. For an hour south, Mexico starts. And this is where things get interesting.
Born in Nogales, Arizona, raised in Nogales, Sonora, multi-instrumentalist and band-leader Sergio Mendoza grew up listening to the Mexican regional styles jostling for headspace in a young, music- mad mind – cumbia mainly, but mambo, rancheras and mariachi too. The border is always a fierce arena of exchange, both commercial and cultural, and so there was American music too. At one point 'rock and roll, the classics', as Mendoza himself deadpans, seemed to win out and he stopped playing those 'Latin styles' for a good decade and a half.
The return to those sounds was a strong one in 2012's Mambo Mexicano, co-produced by Mendoza and Joey Burns of Calexico – a band for which Mendoza has become an increasingly integral touring and recording member. While that record had a studied air, tentative in parts (as befits the renewal of an old love affair), ¡Vamos A Guarachar!, released on 7 October 2016 by prestigious Glitterbeat Rec., is another beast entirely: by turns raucous ('Cumbia Volcadora', featuring Mexican electronic pioneer Camilo Lara), tender ('Misterio', surely Salvador Duran's finest moment with the band so far) and plain serious fun, as in 'Contra La Marea' and 'Mapache', it also bears a robust electronic edge, a keen pop sensibility and all the hallmarks of Mendoza's love of 60s rock, with the closing track, 'Shadows of the Mind', sure to be included if anyone decides to update the Nuggets collection for the 21st century. This is roundabout way of saying that it appears to have everything, but never too much of anything. Focused, fierce and beautifully executed by a superbly drilled set of musicians, it is a record that fully matches the band's explosive live performances.
"A sunny-side-up mix of cumbia, mambo, indie and electronica… If you think Latin American music tends towards the formula, try this out for size." — fRoots
Nogales, Sonora, Nogales, Arizona: this is what the border looks like here – for now. To talk about borders and the diasporas they create, is to be pitched headlong into our era's most urgent debate, marked by Trump's lurid obscenities and the lines being hastily reinstated across Europe. Orkesta Mendoza's contribution to that debate is to show us what the border sounds like and what masterpieces can be achieved by honest cultural exchange. What we decide to do with that information is up to us. With this record, however, we'll have an awful lot of fun deciding.
You could, of course, take the trip to Tucson yourself, to the home of this essential set of field recordings. The scene hangs out together, so … if the stars align and their frantic tour schedules permit, you might see any number of folks from Calexico, Giant Sand or up-and-coming cumbia rockers Xixa deep in conversation somewhere in town with a quiet young man in black. That's Sergio. Right now, in this endless game of Tucson tag, Orkesta Mendoza are IT.
---
[/trim]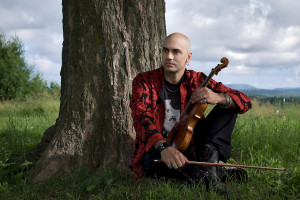 [trim length="250"]
---
"one of the best voices in music" – T Bone Burnett
Tim Eriksen is acclaimed for transforming American tradition with his startling interpretations of old ballads, love songs, shape-note gospel and dance tunes from New England and Southern Appalachia. He combines hair-raising vocals with inventive accompaniment on banjo, fiddle, guitar and bajo sexto, creating a distinctive hardcore Americana sound that ranges from the bare bones of solo unaccompanied singing on his album "Soul of the January Hills" (Appleseed 2010) through the stripped-down voice and bajo sexto Christmas album "Star in the East" (timeriksenmusic 2012) to the lush, multi-layered arrangements on "Josh Billings Voyage", the new album of northern roots American music from the imaginary village of Pumpkintown (timeriksenmusic 2012).
Eriksen's own compositions, which NetRhythms UK described as "strange and original works", have been featured in films like the Billy Bob Thornton vehicle "Chrystal" and the upcoming documentary "Behold the Earth". Eriksen's other notable work has included extensive contributions to Anthony Minghella's 2004 Oscar-winning film "Cold Mountain" as well as collaborations ranging from hardcore punk and Bosnian pop to symphony orchestra and the 2010 Grammy-nominated album "Across the Divide with Afro-Cuban world-jazz pianist Omar Sosa.
The former frontman of the prophetic groups Cordelia's Dad (folk-noise), Northampton Harmony (shape-note quartet) and Zabe i Babe (Bosnian folk and pop), Tim Eriksen is the only musician to have shared the stage with both Kurt Cobain and Doc Watson, and his media appearances have ranged from Prairie Home Companion to the Academy Awards. Having graduated from early shows at punk mecca CBGB, Tim's more recent performances have included his Carnegie Hall debut as a soloist in Even Chambers' symphonic work "The Old Burying Ground" and two week-long stints at the Blue Note Jazz Club with Omar Sosa. In the studio, he has worked with producers including Joe Boyd, T-Bone Burnett and Steve Albini.
While Eriksen's curiosity and passion have led him on many musical journeys besides American roots – from punk rock and shape-note gospel through South Indian classical music and Bosnian pop to world jazz and contemporary symphonic music – all his explorations are linked by the qualities of intensity, directness, and authority which combine in a music that captures a truth about human experience and expresses it without apology.
TEACHING AND SCHOLARSHIP
Tim Eriksen's work as an ethnomusicologist and teacher has included extensive research on shape-note music in New England and the venerable Sacred Harp four-part harmony tradition. He is a founder of what is currently the world's largest Sacred Harp singing convention, in Northampton, MA. In the words of Paste Magazine editor Josh Jackson, "no one has done more to help revive Sacred Harp singing among a younger generation."
Eriksen has taught college courses including American Balladry, Global Sounds, Film Music from Hollywood to Bollywood, American Music, and Songwriting at Dartmouth College, Amherst College, Smith College, The University of Minnesota, Hampshire College and Wesleyan University. In addition, he has taught hundreds of hour- to week-long workshops and seminars in shape-note harmony singing, American music history, ballad singing and instrumental accompaniment at festivals, universities, museums and arts centers, including the Smithsonian Institution, Harvard University, the Society for Ethnomusicology Convention, Colours of Ostrava Festival (Czech Republic), Camp Fasola (Anniston, AL) and the Early Music Festival in Jaroslaw, Poland. His students have ranged from a group of kindergarteners at an inner city school in Portland, Oregon to Nicole Kidman, Elvis Costello, Sting and a group of fifty Romanian extras in the film Cold Mountain and the senior citizen members of the now legendary Young at Heart Chorus.
---
[/trim]