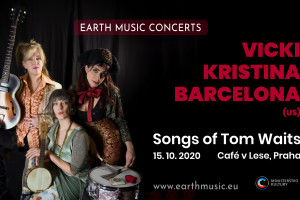 [trim length="250"]
One of New York CIty's most beloved and talked-about bands, VickiKristinaBarcelona transforms the songs of Tom Waits, showing them in a new light, a genre unto themselves, while maintaining the original humor and pathos. Their repertoire explores the vast landscape of Waits' styles, by turns danceable and philosophical, humorous, unsettling and heart-warming.
The beautiful song melodies are unearthed by breathtakingly gorgeous and inventive three-part harmonies and often surprising arrangements, via an array of instruments including accordion, guitar, percussion, harmonium, banjo, bottles and bells.
Rachelle Garniez, Amanda Homi and Terry Radigan are each seasoned singer-songwriters with distinctive differences. Rachelle's genre-fluid Cabaret, Amanda's Global rhythms and forms, and Terry's traditional Americana Roots all combine to form a sound greater than the sum of its' parts. While most of the songs are built around the signature ensemble vocals, each member of the band is also featured individually, organically choosing a Waits song that best fits their personality.
The name of the band is an adaptation of a Woody Allen movie title. As the film centers on the story of three strong women and their complicated dance around a male character, it is a reflection of the group's dynamic and mission. There is a playfulness to the reference, a sly wink and a reclaiming of female power.
Their first CD, "Pawn Shop Radio" comes out on 29 May 2020.
---
[/trim]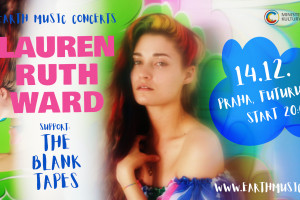 [trim length="250"]
After the sold out show last year in Cafe V lese Lauren Ruth Ward is coming back to Prague. She'll bring her new album "Vol.II" which came on 13 March this year.
Everyone remembers the first time they see Lauren Ruth Ward sing. Not many singers has that effect. The thing is, you've never seen someone sing from every cell in their being and well, it changes your own chemistry for a moment. You think, if she can be bigger than her body, why can't I? And just like that, you are empowered. What's better, you never expected it would feel
this fun.
Critics have declared Lauren Ruth Ward as a cross between Janis Joplin, Florence Welch and Courtney Barnett. debut album "Well, Hell" garnered accolades from NYLON, Noisey, Consequence of Sound, the Los Angeles Times, Indie Shuffle and more. Viral clips spread quickly of this new phenom's visceral live performance. Singing in the faces of fans, songs like "Blue Collar Sex Kitten", "Make Love to Myself" and the soul crushing "Did I Offend You". In no time, LRW was playing to sold out crowds in the US and overseas, sharing stages with artists as diverse as LP, the Yeah Yeah Yeah's, Shirley
Manson, Eddie Vedder, Shakey Graves, Liz Phair and even Keith Urban; with a growing reputation for stealing the show.
Rock n' Roll in 2020 really needs something. Thank the fucking Goddesses above and below for sending us Lauren Ruth Ward.
---
Website | Instagram |Facebook | FB event
[/trim]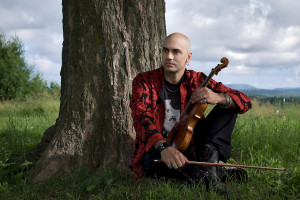 [trim length="250"]
---
"one of the best voices in music" – T Bone Burnett
Tim Eriksen is acclaimed for transforming American tradition with his startling interpretations of old ballads, love songs, shape-note gospel and dance tunes from New England and Southern Appalachia. He combines hair-raising vocals with inventive accompaniment on banjo, fiddle, guitar and bajo sexto, creating a distinctive hardcore Americana sound that ranges from the bare bones of solo unaccompanied singing on his album "Soul of the January Hills" (Appleseed 2010) through the stripped-down voice and bajo sexto Christmas album "Star in the East" (timeriksenmusic 2012) to the lush, multi-layered arrangements on "Josh Billings Voyage", the new album of northern roots American music from the imaginary village of Pumpkintown (timeriksenmusic 2012).
Eriksen's own compositions, which NetRhythms UK described as "strange and original works", have been featured in films like the Billy Bob Thornton vehicle "Chrystal" and the upcoming documentary "Behold the Earth". Eriksen's other notable work has included extensive contributions to Anthony Minghella's 2004 Oscar-winning film "Cold Mountain" as well as collaborations ranging from hardcore punk and Bosnian pop to symphony orchestra and the 2010 Grammy-nominated album "Across the Divide with Afro-Cuban world-jazz pianist Omar Sosa.
The former frontman of the prophetic groups Cordelia's Dad (folk-noise), Northampton Harmony (shape-note quartet) and Zabe i Babe (Bosnian folk and pop), Tim Eriksen is the only musician to have shared the stage with both Kurt Cobain and Doc Watson, and his media appearances have ranged from Prairie Home Companion to the Academy Awards. Having graduated from early shows at punk mecca CBGB, Tim's more recent performances have included his Carnegie Hall debut as a soloist in Even Chambers' symphonic work "The Old Burying Ground" and two week-long stints at the Blue Note Jazz Club with Omar Sosa. In the studio, he has worked with producers including Joe Boyd, T-Bone Burnett and Steve Albini.
While Eriksen's curiosity and passion have led him on many musical journeys besides American roots – from punk rock and shape-note gospel through South Indian classical music and Bosnian pop to world jazz and contemporary symphonic music – all his explorations are linked by the qualities of intensity, directness, and authority which combine in a music that captures a truth about human experience and expresses it without apology.
TEACHING AND SCHOLARSHIP
Tim Eriksen's work as an ethnomusicologist and teacher has included extensive research on shape-note music in New England and the venerable Sacred Harp four-part harmony tradition. He is a founder of what is currently the world's largest Sacred Harp singing convention, in Northampton, MA. In the words of Paste Magazine editor Josh Jackson, "no one has done more to help revive Sacred Harp singing among a younger generation."
Eriksen has taught college courses including American Balladry, Global Sounds, Film Music from Hollywood to Bollywood, American Music, and Songwriting at Dartmouth College, Amherst College, Smith College, The University of Minnesota, Hampshire College and Wesleyan University. In addition, he has taught hundreds of hour- to week-long workshops and seminars in shape-note harmony singing, American music history, ballad singing and instrumental accompaniment at festivals, universities, museums and arts centers, including the Smithsonian Institution, Harvard University, the Society for Ethnomusicology Convention, Colours of Ostrava Festival (Czech Republic), Camp Fasola (Anniston, AL) and the Early Music Festival in Jaroslaw, Poland. His students have ranged from a group of kindergarteners at an inner city school in Portland, Oregon to Nicole Kidman, Elvis Costello, Sting and a group of fifty Romanian extras in the film Cold Mountain and the senior citizen members of the now legendary Young at Heart Chorus.
---
[/trim]