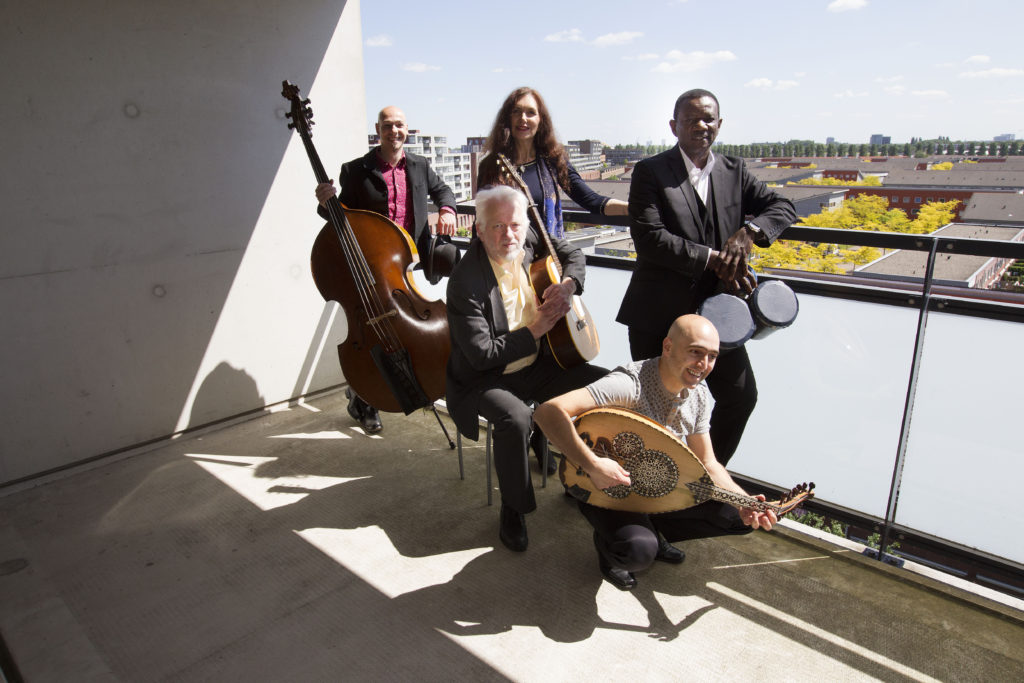 Country: The Netherlands
Genre: Arabicana (folk, blues, country)
Label: Productiehuis ON
Booking territory: Central & Eastern Europe




---
NO Blues is the crossroad where Folk, Blues and Arabic music meet, it's an Arabicana.
Arabicana
You will not find the word 'Arabicana' in any encyclopedia except in combination with the band NO blues. What started as experiment became a full blown musical genre. They called their unique mix of Americana (folk, blues and country) and Arabic music; 'Arabicana'.
Oh Yeah Habibi (2015): ten years and up-to-date
If you look up the word 'arabicana' you find a music genre and its inventors; NO blues. Even after ten years the band that combines Oriental roots music and American folk blues is still unique in the world.
On the new album Oh Yeah Habibi, NO blues bridges the gap between east and west and changes the Nile and the Mississippi in one meandering musical delta. Even though the band has been together for ten years, the new album Oh Yeah Habibi sounds direct and fresh like a debut album. Oud player Haytham Safia: "We went back to the core of guitar, oud, double bass and percussion." Different from the previous albums, NO blues chooses to use current events as topics for their songs. Songs like Exodus and The World Keeps Turning refer to people that seek refuge and Two Trains and Gods Move refer to religious themes. "It struck us that our music seemed to have a different energy after the terrorist attack on Charlie Hebdo," says bass player Anne-Maarten van Heuvelen. "NO blues has always been a political statement in music, we had to follow that up with our lyrics." Guitarist Ad van Meurs: "We've never been a political band, but we definitely don't look the other way either."
Oh Yeah Habibi is more on topic than previous NO blues albums and the critically acclaimed arabicana from this Dutch based top team that has been working together for ten years, still has great impact. In twelve new studio tracks the band reaches a next level in their musical embrace between east and west.
NO blues are:
Ad van Meurs (vocals, guitar),
Haytham Safia (vocals, oud),
Osama Maleegi (percussion),
Anne-Maarten van Heuvelen (vocals, bass),
Ankie Keultjes (vocals, synthesizer).
History
In 2004 Rob Kramer – artistic director of productiehuis Oost-Nederland – invites three string virtuosos for a three-day session that should result in one joint concert. The spontaneously developed synergy between Anne-Maarten van Heuvelen (bass), Ad van Meurs (guitar) and Haytham Safia (u'd – Arabic lute) lead to hundreds of shows and four NO blues albums. Vast Arabic scales mingle with tight blues schedules. In 2007 NO blues becomes a quintet with the advent of percussionist Osama Maleegi and vocalist and producer Ankie Keultjes. Meanwhile, they also conquer the world music lovers in France, Greece, Mexico and in many Arab countries.
NO Blues discography
Farewell Shalabiye (2005)
Ya Dunya (2007)
Lumen (2009)
Hela Hela (2010)
Kind of NO blues (2013)
Oh Yeah Habibi (2015)
---