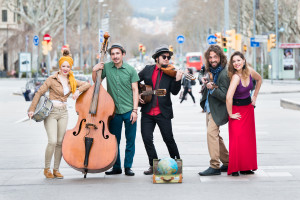 [trim length="250"]
Jsou lidé, kteří se jako světoobčané už narodí. Takový je i brazilský hudebník a skladatel Luiz
Murá. Pochází z Rio de Janeira, ale má brazilsko-japonsko-portugalsko-italské předky a při výběru
svých spoluhráčů se rozhodně neomezuje geografickými nebo národnostními hranicemi. Z Brazílie
se vydal do světa hledat novou hudbu a inspiraci a na své cestě potkal spoustu muzikantů a umělců
se stejnou cikánsko-cestovatelskou duší jako on sám. Na základě takových setkání vznikla i skupina
MiraMundo.
Stalo se to v Barceloně, středomořském městě uprostřed této planety, kde objevil to pravé místo,
které mu umožnilo rozvinout hudební odkaz, který si přivezl. Gimbristé z Maroka, italští pěvci,
flamenkoví tanečníci, brazilští sambisté, hráči na djembe ze Senegalu, ruští bajanisté, mexičtí
mariachi a rumunští cikáni, ti všichni hráli tu stejnou píseň, ale vždy s novým zvukem a novou
příchutí. Neexistovaly zde žádné hranice, jen hudební jednota.
Během té doby potkal spoluhráče, kteří s ním tvoří MiraMundo: houslista Agostino Aragno z Itálie,
zpěvačka Desirée Garcia Miras ze Španělska, basista a multiinstrumentalista Ernesto Vargas z Mexika a nyní také bubenice Gloria Maurel ze Španělska. Každý z nich pochází z jiné země a každý z nich přidal ke zvuku kapely své kulturní dědictví a také svou vášeň pro muzicírování, cestování a spolupráci s umělci z celého světa.
Misí MiraMundo je sdílet své písně posluchačům po celém světě, od těch nejintimnějších vokálních
harmonií až po ty nejdivočejší večírkové popěvky. Zároveň svými vlastními příběhy zvou
posluchače na kouzelnou cestu světem. MiraMundo zní jako soundtrack k cestování.
[/trim]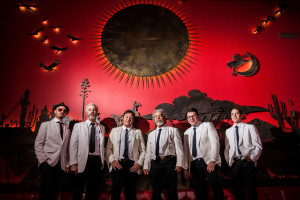 [trim length="250"]
---
"Orkesta Mendoza is one of the best live bands out there. Their music delves into a myriad of directions, rhythms and moods, big band orchestrations mixed with lo fi electronica, vocals en Español together with moving instrumentals." — Joey Burns, Calexico
Something is stirring in downtown Tucson. That's no great surprise perhaps: Calexico have been sending out missives from the desert for 20 years now, Giant Sand for even longer than that, and the Green on Red revival is surely overdue. These three giants of American popular music ask questions of the form, chiefly because of where they are situated. Let us remind ourselves that this isn't a big city in the American sense (it's the country's 33rd largest), but that its hinterland is indeed as big as it gets. For an hour south, Mexico starts. And this is where things get interesting.
Born in Nogales, Arizona, raised in Nogales, Sonora, multi-instrumentalist and band-leader Sergio Mendoza grew up listening to the Mexican regional styles jostling for headspace in a young, music- mad mind – cumbia mainly, but mambo, rancheras and mariachi too. The border is always a fierce arena of exchange, both commercial and cultural, and so there was American music too. At one point 'rock and roll, the classics', as Mendoza himself deadpans, seemed to win out and he stopped playing those 'Latin styles' for a good decade and a half.
The return to those sounds was a strong one in 2012's Mambo Mexicano, co-produced by Mendoza and Joey Burns of Calexico – a band for which Mendoza has become an increasingly integral touring and recording member. While that record had a studied air, tentative in parts (as befits the renewal of an old love affair), ¡Vamos A Guarachar!, released on 7 October 2016 by prestigious Glitterbeat Rec., is another beast entirely: by turns raucous ('Cumbia Volcadora', featuring Mexican electronic pioneer Camilo Lara), tender ('Misterio', surely Salvador Duran's finest moment with the band so far) and plain serious fun, as in 'Contra La Marea' and 'Mapache', it also bears a robust electronic edge, a keen pop sensibility and all the hallmarks of Mendoza's love of 60s rock, with the closing track, 'Shadows of the Mind', sure to be included if anyone decides to update the Nuggets collection for the 21st century. This is roundabout way of saying that it appears to have everything, but never too much of anything. Focused, fierce and beautifully executed by a superbly drilled set of musicians, it is a record that fully matches the band's explosive live performances.
Nogales, Sonora, Nogales, Arizona: this is what the border looks like here – for now. To talk about borders and the diasporas they create, is to be pitched headlong into our era's most urgent debate, marked by Trump's lurid obscenities and the lines being hastily reinstated across Europe. Orkesta Mendoza's contribution to that debate is to show us what the border sounds like and what masterpieces can be achieved by honest cultural exchange. What we decide to do with that information is up to us. With this record, however, we'll have an awful lot of fun deciding.
You could, of course, take the trip to Tucson yourself, to the home of this essential set of field recordings. The scene hangs out together, so … if the stars align and their frantic tour schedules permit, you might see any number of folks from Calexico, Giant Sand or up-and-coming cumbia rockers XIXA deep in conversation somewhere in town with a quiet young man in black. That's Sergio. Right now, in this endless game of Tucson tag, Orkesta Mendoza are IT.
PRESS
"Mixing 60s rock styles with traditional Latin stompers, the US-Mexicanband are both experimental and rousing." – The Guardian
"A sunny-side-up mix of cumbia, mambo, indie and electronica… If you think Latin American music tends towards the formula, try this out for size." — fRoots
"Sergio Mendoza is probably my favourite musician of this time. He has the cumbia and mambo in his DNA, but he has the power to make it sound like today. His Orkesta is as punk as the Sex Pistols and as violent as Perez Prado" — Camilo Lara, Mexican Institute of Sound
---
[/trim]