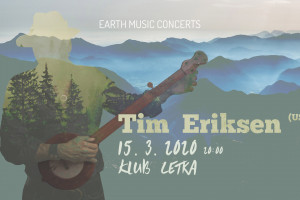 [trim length="250"]
Tim Eriksen je jeden z nejpozoruhodnějších zpěváků americké "roots music", který "spojuje kořeny a současnost s punkovou bezprostředností, která vás nechá stát s otevřenými ústy". Muzikant neobvyklé naléhavosti a vynalézavý multiinstrumentalista, jehož interpretace starých mordýřských balad a "kostelních" harmonií nejstarší americké hudební tradice "Sacred harp" s všudypřítomnými stopami apalačské a irské hudby mu vynesly nadšené ohlasy publika po celém světě. Pravděpodobně jediný člověk, který stál současně na podiu s Doc Watsonem i Kurtem Kobainem.
Pokud si nejste jistí, co byste měli očekávat, třeba si vzpomenete na film Návrat do Cold Mountain s Nicole Kidman a Jude Law v hlavních rolích, kde Tim mj. učil zpívat Nicole Kidman, Elvise Costella and Stinga staré "Shape note" chorály z 19. století. Jeho píseň "I Wish The Wars Were All Over" si vybrala Joan Baez jako svoji poslední nahrávku. Kromě výše zmíněných spolupracoval např. s Jackem Whitem, Ralphem Stanleym, Stevem Reichem, Stevem Albinim, Joe Boydem, T Bone Burnettem a Alison Kraus.
Tim Eriksen si vydobyl ostruhy hraním v notoricky známém newyorském klubu CBGB s legendárními hardcore punkovými Cordelia's Dad. Získal univerzitní titul v klasické indické hudbě v jižní Indii (veena a hlas), zatímco se po celou dobu neustále zabýval severními kořeny (Northern Roots) stylu Americana, které doloval z archivů místních knihoven a paperbacků pro podomní prodej. Coby původně punkový rebel debutoval na začátku milénia jako sólista v New York Carnegie Hall v symfonické skladbě Evana Chamberse "The Old Burying Ground". Do New Yorku se vrátil na několik vyprodaných koncertů v jazzovém "hlavním městě světa", klubu Blue Note, jako zvláštní host světového jazzového inovátora Omara Sosy. Jejich společné album s názvem "Across the Divide" (Half Note, 2009) bylo 2x nominováno na cenu Latin Grammy.
VSTUPENKY: https://goout.net/cs/koncerty/tim-eriksen/wsyhf/+wovnp/
www.youtube.com/user/batfancy
www.timeriksenmusic.com
www.facebook.com/timeriksenmusic
[/trim]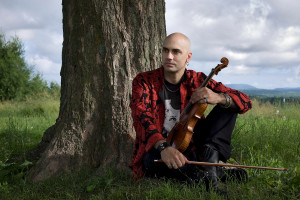 [trim length="250"]
---
"one of the best voices in music" – T Bone Burnett
Tim Eriksen is acclaimed for transforming American tradition with his startling interpretations of old ballads, love songs, shape-note gospel and dance tunes from New England and Southern Appalachia. He combines hair-raising vocals with inventive accompaniment on banjo, fiddle, guitar and bajo sexto, creating a distinctive hardcore Americana sound that ranges from the bare bones of solo unaccompanied singing on his album "Soul of the January Hills" (Appleseed 2010) through the stripped-down voice and bajo sexto Christmas album "Star in the East" (timeriksenmusic 2012) to the lush, multi-layered arrangements on "Josh Billings Voyage", the new album of northern roots American music from the imaginary village of Pumpkintown (timeriksenmusic 2012).
Eriksen's own compositions, which NetRhythms UK described as "strange and original works", have been featured in films like the Billy Bob Thornton vehicle "Chrystal" and the upcoming documentary "Behold the Earth". Eriksen's other notable work has included extensive contributions to Anthony Minghella's 2004 Oscar-winning film "Cold Mountain" as well as collaborations ranging from hardcore punk and Bosnian pop to symphony orchestra and the 2010 Grammy-nominated album "Across the Divide with Afro-Cuban world-jazz pianist Omar Sosa.
The former frontman of the prophetic groups Cordelia's Dad (folk-noise), Northampton Harmony (shape-note quartet) and Zabe i Babe (Bosnian folk and pop), Tim Eriksen is the only musician to have shared the stage with both Kurt Cobain and Doc Watson, and his media appearances have ranged from Prairie Home Companion to the Academy Awards. Having graduated from early shows at punk mecca CBGB, Tim's more recent performances have included his Carnegie Hall debut as a soloist in Even Chambers' symphonic work "The Old Burying Ground" and two week-long stints at the Blue Note Jazz Club with Omar Sosa. In the studio, he has worked with producers including Joe Boyd, T-Bone Burnett and Steve Albini.
While Eriksen's curiosity and passion have led him on many musical journeys besides American roots – from punk rock and shape-note gospel through South Indian classical music and Bosnian pop to world jazz and contemporary symphonic music – all his explorations are linked by the qualities of intensity, directness, and authority which combine in a music that captures a truth about human experience and expresses it without apology.
TEACHING AND SCHOLARSHIP
Tim Eriksen's work as an ethnomusicologist and teacher has included extensive research on shape-note music in New England and the venerable Sacred Harp four-part harmony tradition. He is a founder of what is currently the world's largest Sacred Harp singing convention, in Northampton, MA. In the words of Paste Magazine editor Josh Jackson, "no one has done more to help revive Sacred Harp singing among a younger generation."
Eriksen has taught college courses including American Balladry, Global Sounds, Film Music from Hollywood to Bollywood, American Music, and Songwriting at Dartmouth College, Amherst College, Smith College, The University of Minnesota, Hampshire College and Wesleyan University. In addition, he has taught hundreds of hour- to week-long workshops and seminars in shape-note harmony singing, American music history, ballad singing and instrumental accompaniment at festivals, universities, museums and arts centers, including the Smithsonian Institution, Harvard University, the Society for Ethnomusicology Convention, Colours of Ostrava Festival (Czech Republic), Camp Fasola (Anniston, AL) and the Early Music Festival in Jaroslaw, Poland. His students have ranged from a group of kindergarteners at an inner city school in Portland, Oregon to Nicole Kidman, Elvis Costello, Sting and a group of fifty Romanian extras in the film Cold Mountain and the senior citizen members of the now legendary Young at Heart Chorus.
---
[/trim]