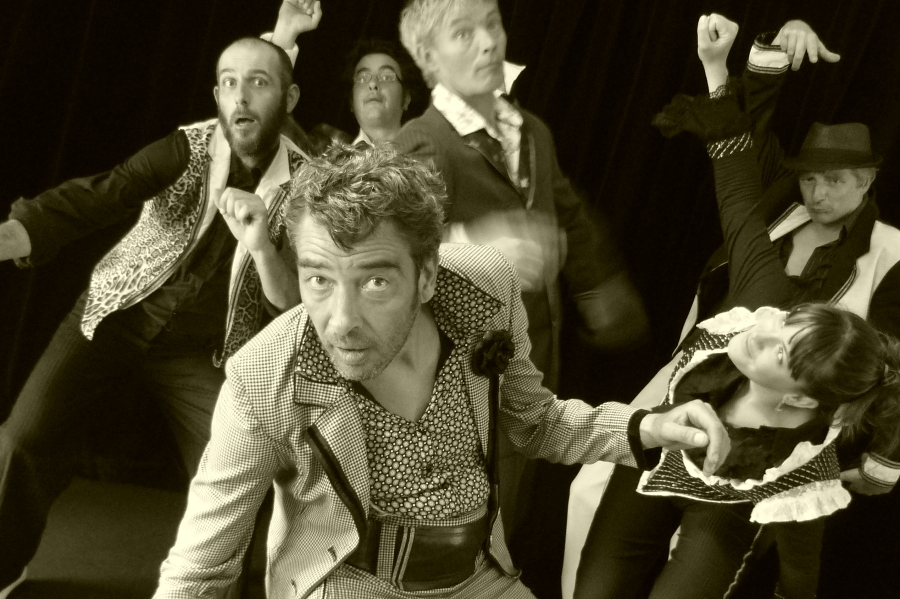 Country: France
Genre: circus, gypsy, balkan, film & theater music, jazz, mime street show
Label: selfreleased
Booking territory: Central and Eastern Europe




---
Between New Orleans street brass band and mini-big fairground band, common jazz combo and bunch of mimes and circus clowns, the Sergent Pépère are something unique. With their shimmering rhythms and charming ingenuity the band mixes balkan, gypsy and oriental tunes with jazz, chanson, latin, folk and circus music. But what makes their show so irresistible event is their kind- hearted human humour, which is easy comprehensible for an audience of all kinds, nationalities and ages. Indoor or outdoor, across France and Europe, Sergent Pépère has been giving happiness and pleasure to children and grown up for more than 10 years now.
The Sergent Pépère was born in 1998 in French/Bretagne city of Rennes. The band started as a part of street theater Arpion Celeste and lately has morphed to the regular band. Members of the band are experienced both as actors and musicians of many musical styles. On their concerts these musicians are able as well to make their audience twitching with an incredible deal of energy as to smoothly embark them to the road of an intoxicating imaginary folklore. On stage or on streets the Sergent Pepere tumbles and sets the tone!
Selected performances:
Francophilles, Terre-Neuvas, Coup de chauffe, Jazz a la Villette, Jazz en Touraine, Les Fondus du Macadam, Paleo Festival, Colours of Ostrava, Folk Holidays festival and many more… + touring United Kingdom, Germany, Czech Republic, Slovakia, Romania, Spain.
Press quotes:
Wild Polka, bohemian jazz, oriental group… The Sergent Pépère's mix is astonish! Ouest- France
There is the Sergent Pépère, and the show goes on with their delirious musical show with its mimes, acrobatic gags with 6 cranks outfitted kind of serbo-croatian middle age style! ( Lester Bowie's brass band is not so far): a real success! Jazz Hot
With this psyche name, a crazy and coloured direction, and a singular instrumentation, Sergent Pépère is remarkable in the middle of the happy brass bands. Precise, falsely chaotic, their music blows and tinkles with class and impudence, with simple fancy. Not folk: but rare; I said! Radio Ceros
The 6 musicians, or I should say "the folklorico-mobil disarming commando" as they call themselves, proposed some jazz, gipsy songs, ouzbeks, latino with casualness. Good mood for sure! La Montagne
---