[trim length="250"]
It's a pleasure on friday 6th October Ponk will perform at Budapest Ritmo Festival, which takes place at the famous Akvárium club. The show starts at 19:15, the same night together with Ponk will play Félix Lajkó & Volosi, Söndörgö & Amsterdam Klezmer Band, Mokoomba and more…
[/trim]
[trim length="250"]
"Postfolklor" the debut album of Moravian cimbalom trio PONK has received great review and 4* of 5 from the Songlines magazine. Let's go for more!
[/trim]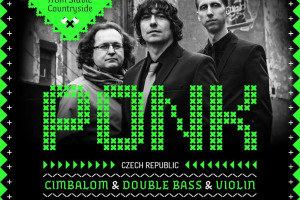 [trim length="250"]
It's our big pleasure and honout to annouce the Czech band PONK has been selected for WOMEX 2016 official showcase. Ponk will be the first band ever to sing in Czech language at WOMEX.
Ponk's sound is made by cimbalom, violin and double bass and the songs they play are traditional Moravian murder ballads played with totaly new attitude and arrangements. If you will be at the Womex this year don't miss their show with brilliant new video screening:
WOMEX 2016 Santiago de Compostela
SATURDAY 22 October, 14:15,
Daycase stage, Level 3, Cidadede Cultura,
You are welcome to meet us anytime at the Czech booth 2.19.
[/trim]