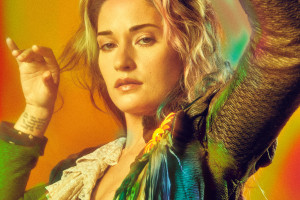 [trim length="250"]
Lauren Ruth Ward (US), Praha, Futurum, 26/3/2023. More info and tickets HERE.
[/trim]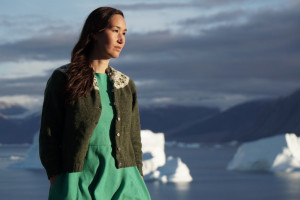 [trim length="250"]
---
Nive Nielsen and the Deer Children play original hummable folk melodies with a streak of vocal jazz or cowboy ballads with an elfin side. Nive is a Greenlandic artist who travels the world playing shows everywhere from Europe to Asia, and the Americas.
If you got a team of the greatest children's book writers in the world together, they couldn't invent Greenlandic folk pop singer Nive Nielsen. In her case at least, band bios are simply stranger than fiction. A few facts about her: The first concert she ever played was for the queen of Denmark on national television; she acted in the Hollywood movie The New World starring Colin Farrell; and she actually is Inuit — well, Inuk — an indigenous Greenlander. Also, it's daylight all summer where she lives.
A few more facts: She plays a little red ukulele in her band called the Deer Children. She writes songs about love and reindeer and forgetting to make coffee. She won an IMA – Independent Music Award in the US, worked with Howe Gelb and John Parish and friends from such indie royalty outfits as The Black Keys and Wolf Parade. Really, I'm not making it up.
What's even more surprising is that her fanciful back story is matched by her own ability to tell stories or sometimes just hint at them with her warm, reedy voice. Sometimes she sings out with and old-timey quaver; sometimes she sings in a soft, childlike murmur. The songs themselves are straight out of a storybook that never was. They could be from anywhere, and they are hard to place in time. They are hummable folk tunes on indie steroids with her international, very interesting group of musicians, to say the least. Her songs have a way of sticking in your mind — and not just because they were written by the only Greenlandic Inuit indie Band you can think of. Snow Songs? Inuit Indie? What ever it is, you have to check them out!
Nive and The Deer Children are:
Nive Nielsen – writes the songs, sings, plays guitar and ukulele,
Jan de Vroede – produces the songs and plays whatever lies around mostly things with keys and strings,
Charlie – guitar, banjo, saw and twang,
Jeppe Skovbakke – bass and low end,
Andrew Collberg – drums and such,
Salik Parbst + Nicolaj Brandt – horns and jangl'n things…
PRESS
"Nieve Nielsen makes folk interesting with a hint of rock and grunge" Fresh Beats 365
"These songs are shape-shifting beasts that twist as soon as you think you've got them pinned down" Folk Radio UK
Penny Black Music – interview 04/2016
Folk Radio UK – interview 02/2016
Glitterhouse Rec. – "Feet First" album press release, 11/2015
Glitterhouse Rec. – "Nive Sings!" album press release, 05/2012
---
[/trim]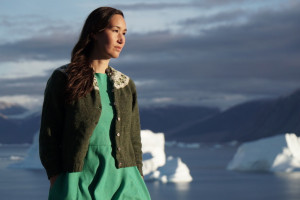 [trim length="250"]
We are proud and happy to announce a new artist on our agency roster – NIVE AND THE DEER CHILDERN, amazing folk-pop singer from Greenland with her band whose bios are simply stranger than fiction. Full info coming soon!
[/trim]