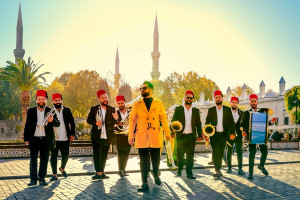 [trim length="250"]
---
Džambo Aguševi Orchestra is a brass band from Macedonia virtuously performing a music that might be defined as fusion of traditional Balkan, Gypsy and Turkish music influenced by swing, jazz and pop and film music, today considered as one of top Balkan brass bands.
Džambo Aguševi was born in Strumica, Macedonia, in 1987 in a family with long and significant musical tradition. Since his childhood, following example of his father Cemal and his uncle Koco, Džambo never even considered an alternative to a music career. At the age of 11 he became a member and the third trumpet of Aguševi Orchestra founded by Koco Agushev, who was a legendary trumpet player, well known in the Balkans and appreciated musician abroad.
Every trumpet player who wants to be fully respected in the Balkans must take part in competitions. Džambo embraced all challenges and went to compete at "Kumanovo Trumpet Fest" in 2006, downsizing other musicians and conquering deserved first place. From 2006 until 2011 the new star of the Aguševi Orchestra was the absolute champion in Kumanovo, until he was banned to compete in order to leave some possibilities for the other trumpet players! In 2011 he took a part to the competition in Pehcevo and managed to win all the prizes, impressing the jury.
It is widely known that the dream of every trumpet player of the Balkan region is to win the Guća Festival. The famous "Dragacevski Sabor" in Guca, Serbia (also known as "Golden Triumpet competition") is since the sixties the most important event of this kind in the whole region and probably in the world. At the World competition in summer of 2011, The Aguševi Orchestra received the first prize and Džambo wrote his name in the history of this famous event: both the judges and the audience appraised the Orchestra and its young leader. The victory in Guća was followed by another victory in Pehcevo in 2012, with the consequent request from the organization not to compete anymore, because Aguševi Orchestra took all the possible prizes.
The Orchestra joined the cast of Memento-Momento, memorable concert event by Nino D'Angelo, directed by maestro Roberto De Simone at the prestigious San Carlo Theatre in Naples. Very impressed by the energy of these musicians the legendary De Simone insisted to have the band as a part of celebrations for the proclamation of the Gigli of Nola / UNESCO heritage.
After having been the main attraction in Mexico City Festival Historico, where the orchestra has entertained 35.000 people, la Banda gitana del momento was going to tour to France, Italy, Albania, Turkey, Austria and Switzerland throughout 2014 and was also invited to perform at the WOMEX 2014 conference and festival.
PRESS
I Want My Trumpet to Sound Like Cry (Independent Macedonia)
Džambo Aguševi Orchestra: Diamond fingers (Harmonie magazin)
---
[/trim]