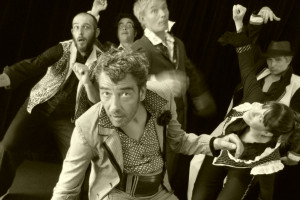 [trim length="250"]
---
Between New Orleans street brass band and mini-big fairground band, common jazz combo and bunch of mimes and circus clowns, the Sergent Pépère are something unique. With their shimmering rhythms and charming ingenuity the band mixes balkan, gypsy and oriental tunes with jazz, chanson, latin, folk and circus music. But what makes their show so irresistible event is their kind- hearted human humour, which is easy comprehensible for an audience of all kinds, nationalities and ages. Indoor or outdoor, across France and Europe, Sergent Pépère has been giving happiness and pleasure to children and grown up for more than 10 years now.
The Sergent Pépère was born in 1998 in French/Bretagne city of Rennes. The band started as a part of street theater Arpion Celeste and lately has morphed to the regular band. Members of the band are experienced both as actors and musicians of many musical styles. On their concerts these musicians are able as well to make their audience twitching with an incredible deal of energy as to smoothly embark them to the road of an intoxicating imaginary folklore. On stage or on streets the Sergent Pepere tumbles and sets the tone!
Selected performances:
Francophilles, Terre-Neuvas, Coup de chauffe, Jazz a la Villette, Jazz en Touraine, Les Fondus du Macadam, Paleo Festival, Colours of Ostrava, Folk Holidays festival and many more… + touring United Kingdom, Germany, Czech Republic, Slovakia, Romania, Spain.
Press quotes:
Wild Polka, bohemian jazz, oriental group… The Sergent Pépère's mix is astonish! Ouest- France
There is the Sergent Pépère, and the show goes on with their delirious musical show with its mimes, acrobatic gags with 6 cranks outfitted kind of serbo-croatian middle age style! ( Lester Bowie's brass band is not so far): a real success! Jazz Hot
With this psyche name, a crazy and coloured direction, and a singular instrumentation, Sergent Pépère is remarkable in the middle of the happy brass bands. Precise, falsely chaotic, their music blows and tinkles with class and impudence, with simple fancy. Not folk: but rare; I said! Radio Ceros
The 6 musicians, or I should say "the folklorico-mobil disarming commando" as they call themselves, proposed some jazz, gipsy songs, ouzbeks, latino with casualness. Good mood for sure! La Montagne
---
[/trim]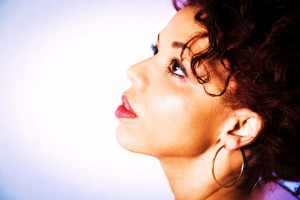 [trim length="250"]
---
"Listening to Mina Agossi is like riding a motorbike through Paris, thrilling, beautiful and very bumpy. Don't expect to come out alive."  Jamie Cullum
"She's a diva…"   Ahmad Jamal
"Princess of Afro-futurism"   L'Humanité
"La Björk du jazz"   le Journal Paris
"Jazz revolucionario" El Correo de Zamora
"One of the most exceptionnal French jazz singers" Paris Capitale
Mina Agossi was born in France to French and West African parents. Mina found herself drawn to the stage and also followed in her mother's footsteps by finding a love of travel. This passion led her to study theatre in Niger, Morocco and France.
After graduating in 1990, Mina continued to travel, spending time in both the US and Spain, before returning to France in 1992. Once back home Mina found herself singing the blues as a favour for a friend who was a saxophonist. The experience changed her life; so much so she immediately knew she was to become a professional singer.
1993 saw Mina on the move again – this time only as far as Brittany, where she was recruited by a Swing & New Orleans jazz band. This was her first taste of success, as very quickly the band was regularly gigging both in France and across the channel in Ireland.
Mina found herself increasingly interested in, and attracted to, modern Jazz. The result of this was her debut album "Voice & Bass" co-created with a double bass player in 1995. Comprising original co-written tunes and using no wind, brass or keyboard instruments; this album marked the beginning of the development of a very personal style of the same name Voice & Bass – that would stay with her right up until the present day.
In 1997 the CD won the prize of "Young Self-Produced Talents" from the French organisation FNAC. This gave her the chance to develop her skills through two special master classes, one in Boston with Sheela Jordan, and the other in France with Jeanne Lee. These experiences helped Mina mature as a singer, and enabled her to take her voice in the unique direction that makes her so distinguishable now.
After moving to Paris, Mina teamed up with drummer Philippe Combelle, with whom she produced her second album, "Alkemi" in 2001. This CD won critical acclaim and received a Five Star review in classical magazine "Diapason", as well as special recognition in Jazz Magazine.
After "Alkemi", Mina created a new band with instrumental masters Alexandre Hiele on the double bass and Bertrand Perrin on drums. With this line up Mina found great success continually touring Europe and the US with new, original compositions and her own re-working of standards.
By this time people were really starting to take notice of this little lady with the huge voice, and offers started flooding in for Mina to sing with other bands. She regularly performs with the likes of Adam Pieronscyk "Amos", Spirit of Life Ensemble, Mukta and Archie Shepp.
Just after the attacks of September 11 2001, "E-Zpass to Brooklyn" was recorded by Mina, live in Brooklyn. This album saw her heading deeper down the self-forged path of her by now unique sound. With imitations of free jazz sax solos and scratching in the microphone, Mina mixes many different musical styles, from hip hop to world to jazz, blues, rock, throwing them around, often when least expected. Then a second CD appeared "Carrousel" with the same trio.
In 2004 Mina Agossi signed to British jazz label Candid Records, and immediately made a massive impact with performances during the Candid Jazz Week in London. Still backed by Alex Hiele and Bertrand Perrin, Mina's latest album "Zaboom!!" was released in May 2005.
Earlier this year Mina won the award for 'Best Newcomer' at The Adami Awards (an industry awards ceremony held in France) which led her to be booked at the Vienne Jazz Festival 2005 supporting the legendary Oscar Peterson. Another accomplishment was her interpretation of Beauty and the Beast for the Lyon Opera House which she was commissioned to write in the spring. She is now preparing to launch her album Zaboum!! in the US in January 2006.
In March 2006 Mina will be releasing her second album on Candid in the UK. "Well You Needn't", with Alex Hièle and drummer Ichiro Onoe, it will feature more of Mina's creative originals and startling re-interpretations of familiar classics. Her inimitable, fresh approach gives the vocal scene a much-needed push in a brand new direction.
2007 she records at the Jazz standard in NY her first live album "Who wants love". Legendary Mr Ahmad Jamal decides to be her manager in the USA.
Another CD – "Simple Things?" – is done in 2008, one of her best. You can hear the fantastic Manolo Badrena on percussion, as well as other musicians such as French young musician, Fred Dupont on the mini moog and the rapper Racos. She's played at the Blue Note New York, and starts to think about her next album witch will be full of new surprises.
On the spring 2010 prestigious French label Naive have released Mina Agossi's next album "Just Like A Lady". Her Voice & Bass" style is enriched with another instruments like a guitar, keyboards and electronics with strong contribution of guitar player Phil Reptil. The album has harvested very positive reactions. Mina Agossi plays a lot of gigs in France, Spain and USA.
In 2012 under the Naive Mina's latest album "Red Eyes" with strong touch of blues is out and with a great guest appearance of Archie Shepp again.
"Fresh" is the last album (2014 – Plus Loin Music). Mina, who never ceases to break down barriers, reinventing the music, takes pleasure in this album to blur the boundaries between jazz, pop, rock… She has a new perspective on her 20 year career, revisits some of her compositions and introduces new multiple influences. Such as ten previous albums, Mina wished to invite friends, famous artists Alexei Aigui of 4'33 group (Moscow) and the drummer Philippe Combelle.
A new, again self-produced, album "UrbAfrica" was released on spring 2017. On it you will find the excellent Beninese drummer, Jean Adagbenon, the legendary Paco Sery as a special guest, Eric Jacot on bass, Laurent Succab on the ka perc, and Mister Tee Bo on keyboards.
---
[/trim]