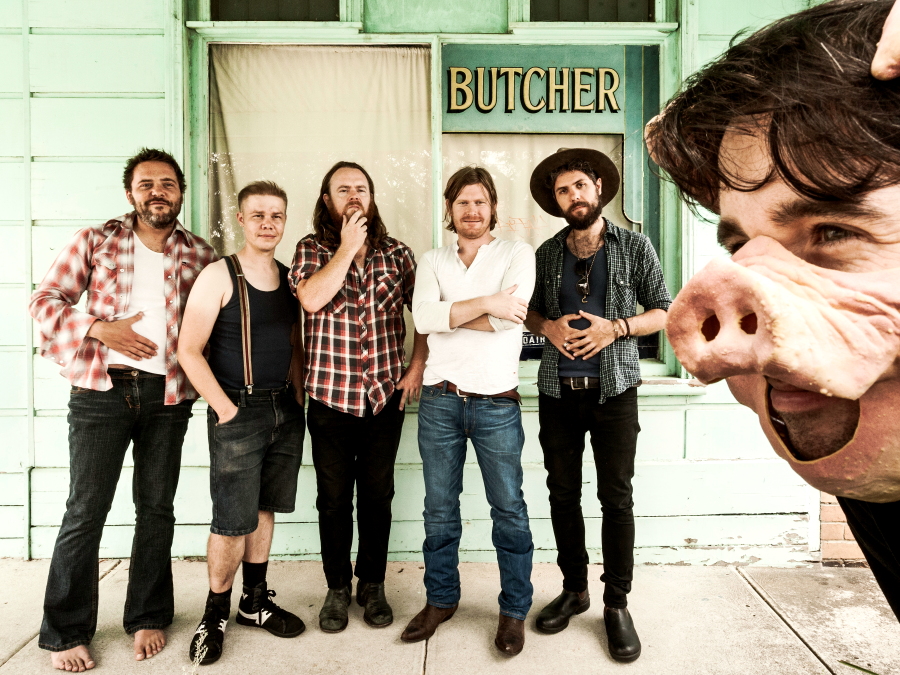 Country: Australia
Genre: alt-country, garage blues, weird folk, psychedelic
Label: Black Hat Rackets / Cargo Rec. Europe
Booking territory: Central and Eastern Europe




---
"My favourite Australian band, they have a raw Australian bush sound." – Brian Ritchie, Violent Femmes
Graveyard Train are a six piece collective from Melbourne, Australia. The initial idea was for six men to sing in baritone about Werewolves, Vampires, Ghosts and the like over frenetic foot stomping country music. A wacky idea that worked and instantly collected fans across the globe.
In a song writing sense Graveyard Train are storytellers who revel in the dark or macabre. Like a virus, Graveyard Train's music evolved into something much richer, forceful and potent. Banjos, dobros as well as their untraditional hammer and chain have carried the intensity of their notorious live shows through the US, Canada, UK, Europe and of course all over Australia.
Graveyard Train are not a country band; they are not a folk band; they are not punk band; they are not a vocal harmony band they are not a psychedelic band. They are all of those things and more; genuinely a band like no other that you have seen.
Over a few short years the band had morphed from a bunch of mates getting drunk and playing small dive bars to a band trying to maintain some semblance of the professionalism needed to play international festivals and headline major theatres. Their 2nd album Hollow swiftly pulled 5 stars from several big Australian media, filled a space in PBSFM's Top 10 and Mess+Noise's Top 20 Albums Of The Year and the lead single I'm Gone was the #1 most played song on Australian Community Radio. After headlining the Forum and selling out consecutive Hi Fi shows in Melbourne, getting the coveted audience-approved Golden Boot at Meredith Music Festival, playing to inmates in a prison, seducing 25,000 punters on the main stage at West Coast Blues N Roots, touring the world and then having some redneck write a song about how they ruined Tamworth, in a lot of ways the band felt they accomplished more than they set out to do.
Then someone wrote a song. The band reconvened to inhabit a studio space. More songs came quickly and they walked away from the desk with a new record and realisation that when they were writing, recording and putting on some of the finest live shows around, they were unstoppable. That reinforcement is tattooed on record opener, lead single and title track, Takes One To Know One. It encaspsulates both a childish insult and a driving sound of classic Graveyard Train. Repeated listens of the entire LP reveals gems and oddities buried in a sublime, sometimes tortured marriage of country music, stoner rock, classic Graveyard gang vocals, haunting storytelling and the stellar musicianship that dyed-in-the-wool fans of the band have come to expect. With their new record under their arm, and their own label, Black Hat Rackets, GT have paired up with revered European label Cargo Records to release the new record to a worldwide audience.
PRESS
---