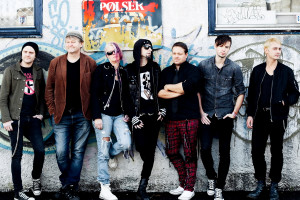 [trim length="250"]
---
The irish-punk pioneers Greenland Whalefishers started out in Bergen, Norway, in 1994, long before anyone had heard of bands like Flogging Molly or Dropkick Murphys. Combining British punk with Celtic folk influences, the band soon became one of the most interesting post-Pogues bands.
Two decades of touring all around the world, sparkling live shows. releasing nine full length albums, piles of singles and EPs, an uncountable number of split-releases, a documentary movie and contributing with music to the movie "Boondock Saints – All Saints Day", places the underground folk punkers in Greenland Whalefishers as one of the worlds most credible celtic rock bands.
"Greenland Whalefishers picked up where the Pogues left off and are consistently setting the standard for Paddy Punk with every release." – John Bowles –paddyrock.com (Chicago, USA)
As a part of the celebration of Greenland Whalefishers ́ 20th anniversary in 2014, the band released the documentary movie "20 Years Of Waiting" covering the entire history of the band. The movie gained fantastic reviews: "
all was answered and more by this amazing Rockumentary celebrating 20 years of one of the greatest Paddy Punk bands in the world ever." -paddyrock.com ( New York, USA ).
Greenland Whalefishers have toured in the USA, Japan, England, Germany, Italy, Scotland, Poland, Ireland, Czech Republic, The Netherlands, Belgium etc, and on stage they met lot of their colleagues and friends like Shane MacGowan, Dropkick Murphys, Dubliners or The Real McKenzies. And they will continue touring all over world with more power and energy than ever on what may be called their never ending world tour. It is all this hard work and all the experience touring that has made critics applaud the bands albums and concerts saying " this is probably one of the best Celtic Punk bands you will ever see perform live".
---
[/trim]