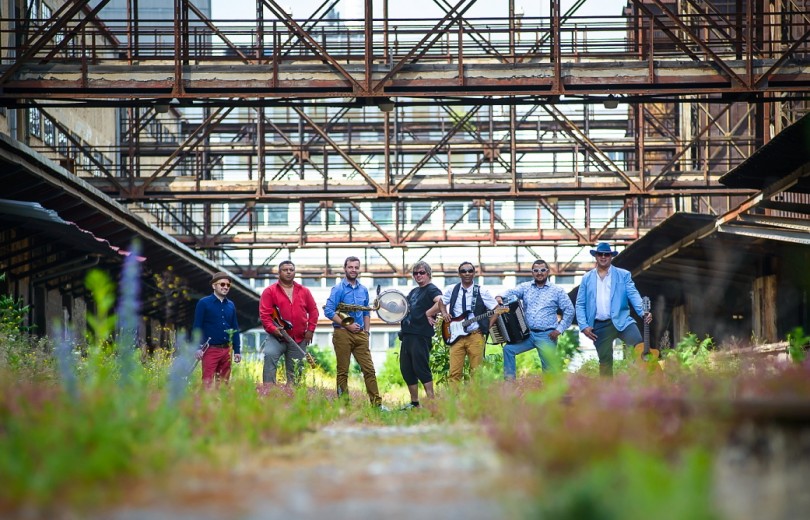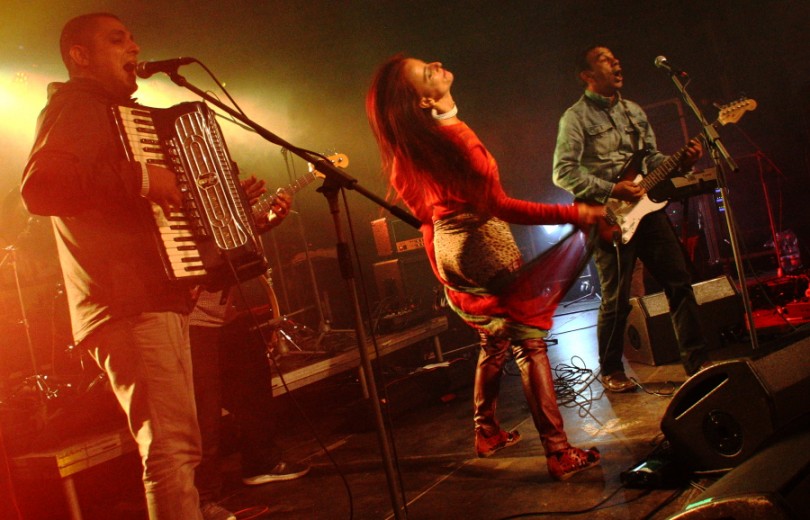 Country: Czech Republic
Genre: gypsy ska rock rom'n'roll
Label: unsigned
Booking territory: worldwide
Země: Czech Republic
Žánr: gypsy ska rock rom'n'roll
Vydavatelství: unsigned
Zastoupení: worldwide
---
Terne Čhave are considered as one of oldest and most famous Roma (Gypsy) bands from the Czech Republic well known for their distinctive sound blending Central European traditional gypsy music with rock, ska, klezmer, funk, blues and other influences. To name the band's style is not easy – they don't care about it at all and you will have no time to care too because most of their songs run in devil's tempo. Touring Europe from the Czech Republic and Slovakia via Hungary, Italy, Spain, France, Germany, Benelux, England to Scotland, wherever they go people are dancing. But if you can't stick without knowing their style name we can give you away that this is a real gypsy-ska-rock'n'roll or simply …IT'S ONLY ROM'N'ROLL!!!
Bo me so Rom: Terne Čhave are back with their fourth and most personal album so far
Seven years after the award-winning CD "More, love!", Terne Čhave released their fourth album "Bo me som Rom" (Because I am Rom). Once again, the band reaffirms that their fans can expect anything but Romani (Gypsy) folklore.
Since the release of their previous album, Terne Čhave have come a long way. With "More, love!", which scored well in the European World Music Charts (WMCE), the band performed at festivals across Europe. Following a pause in 2010, they resumed performing in 2013 and began to work on a new album under the production of the band's frontman Gejza Bendig.When composing new songs and arrangements, Terne Čhave have taken their famous rom'n'roll style even farther to rock sound. Roma music and musicians are known for an ability to incorporate vast types of music and a proclivity towards exploring other forms. With a new brass section, the musical appetite of Terne Čhave has expanded even further.
Within the new album "Bo me som Rom", you can hear gypsy punk (Budapest, Romano Drom), funky blues (Love), soul reggae (Som zoralo) or even klezmer jazz punk (Panková). A significant portion of the songs flirt with 2 Tone ska, however, for Terne Čhave, this was a logical development. Those who have experienced their concerts, famous for the influx of energy, have discovered already that ska is just a slower Jamaican version of gypsy csárdás. But when you overcome the niches of individual styles and listen to the strong melodies of these songs, you can feel the personality of Central European Gypsies.
Their roots are also reflected in the lyrics, despite the apparent shift away from traditional topics. Terne Čhave have not given up Romani as the main language to express their feelings and sing about the place of the Roma (and all people) in today's world, the search for their own path and identity, but also about more specific issues, such as money, work, freedom and racism. "For a long time we sang mostly about love, family and traditional life of the Roma, we hadn't felt the need to comment on the hatred around us. We just wanted to spread positive energy amongst people. But with the news about the hate marches which have taken place in our country in recent years, our music and lyrics became influenced by our surroundings." says Gejza Bendig.
"For us it was a significant shift. Therefore we also wanted to design the cover in a way that would reflect the philosophy of the whole CD. We were looking for someone who could understand situation of Roma in the Czech Republic with insight and humor. From this perspective, the cartoon artist Toy Box was an ideal choice." "The cover for Terne Čhave is a loose sequel to my personal project Little Czech Nazi," says Toy Box. "I was inspired by comments that people write on the band's fanpage. I tried to show racism and xenophobia in the form that I think is currently the most dangerous. The kind of ordinary, everyday racism that is manifested with complaints about the gypsies in a pub or impoliteness towards Vietnamese shop keepers. The typical little Czech racism, when people say: "I'm not racist, but …"
"Bo me som Rom" FREE DOWNLOAD (or name your price) on Bandcamp.
---