1.5.2020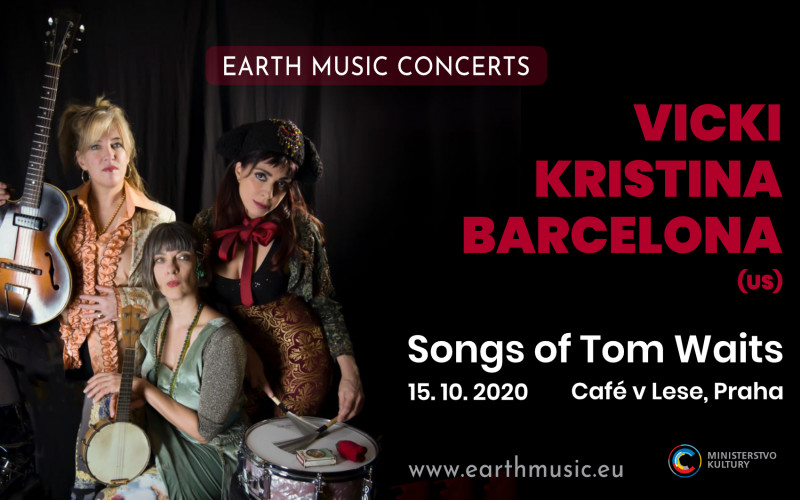 One of New York CIty's most beloved and talked-about bands, VickiKristinaBarcelona transforms the songs of Tom Waits, showing them in a new light, a genre unto themselves, while maintaining the original humor and pathos. Their repertoire explores the vast landscape of Waits' styles, by turns danceable and philosophical, humorous, unsettling and heart-warming.
The beautiful song melodies are unearthed by breathtakingly gorgeous and inventive three-part harmonies and often surprising arrangements, via an array of instruments including accordion, guitar, percussion, harmonium, banjo, bottles and bells.
Rachelle Garniez, Amanda Homi and Terry Radigan are each seasoned singer-songwriters with distinctive differences. Rachelle's genre-fluid Cabaret, Amanda's Global rhythms and forms, and Terry's traditional Americana Roots all combine to form a sound greater than the sum of its' parts. While most of the songs are built around the signature ensemble vocals, each member of the band is also featured individually, organically choosing a Waits song that best fits their personality.
The name of the band is an adaptation of a Woody Allen movie title. As the film centers on the story of three strong women and their complicated dance around a male character, it is a reflection of the group's dynamic and mission. There is a playfulness to the reference, a sly wink and a reclaiming of female power.
Their first album, "Pawn Shop Radio" came out on 29 May 2020.
---
VickiKristinaBarcelona: The Songs Of Tom Waits
VickiKristinaBarcelona: The Songs Of Tom Waits